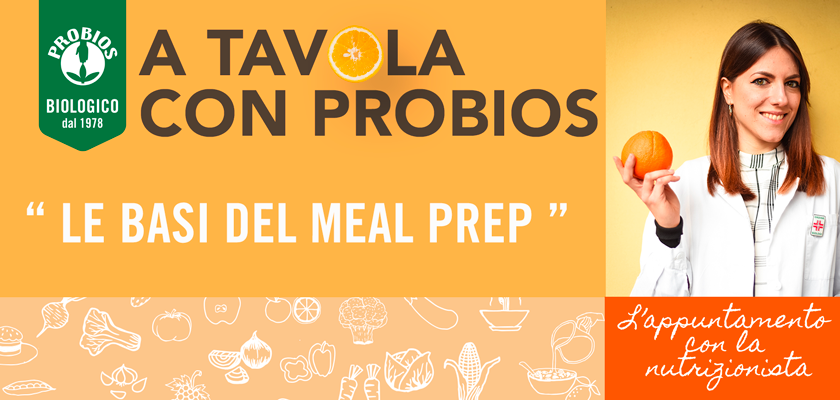 The delicate situation we are experiencing these days across the country is putting us to the test, slowing down our daily activities, but giving us extra good time too.
As a nutritionist, I asked myself: "What useful things can I communicate to the people who follow me?"
Hence my first article to introduce you to the basics of Meal Prep.
What is Meal Prep?
Literally, preparing meals. Practically, the art of organizing your week's meal plan by cooking only one day, or almost. But how? By working on planning, smart shopping and cooking methods that allow us to prepare different types of meals in advance. In short, a valid help to answer to the Government's indications for the containment of the contagion (avoiding the queues at the supermarket!) and to discover an amazing method to build the basis of a winning food routine.
Thinking about it, there is nothing new. Already our mothers or grandmothers prepared on Sundays the dishes to be eaten during the week: they were then kept in the fridge or freezer to be used when needed. But compared to the past, we are not going to spend all day in the kitchen, because we mainly cook the bases to be personalized during the week.
The art of Meal Prep in 5 steps
Decide in advance the meals of the week. You can download a printable meal planning, use it to write the weekly meals day by day and hang it in the kitchen. Start with breakfast, continue with a snack, lunch, snack and dinner. It will be useful not only for the Meal Prep, but for doing the weekly shopping too, having a clear idea of what it will serve and reducing food waste very much.
Plan your shopping based on your weekly menu. Choose foods to assemble balanced meals, then with a source of carbohydrates, one of proteins (also vegetable ones), one of vegetables, one of fats (like extra virgin olive oil or dried fruit like nuts or almonds) and/or a fruit.
Organize your pantry. Key point! Make sure you always have available jars and containers suitable for storing food in the refrigerator.
You are ready for meal prep! Choose a day to dedicate to the preparation of the bases. I usually spend two hours on the weekend. Cook vegetables, cereals, legumes, prepare the doughs, the savory pies bases, crackers, wholemeal bread and clean and dry fruit and vegetables to have them ready for use later. Choose the cooking method: simple, steamed or baked. So the dishes will remain "neutral" and you can assemble them in different ways later. An example? Skip them in a pan, using them to season or enrich a dish.
Organize your fridge. Once the bases are prepared, you can already divide them or assemble them in single portions in special containers and put them in the fridge to use them during the week, otherwise in the freezer.
You can prepare the bases or prepare in advance single portions of balanced meals to be exploited in the following days.
Some examples of my Meal Prep? With lentils, for example. I prepare them by cooking them in plenty of water for 35-40 minutes with carrot, onions and celery and then in the following days I just have to heat them in a pan with the tomatoes and already cooked brown rice. Or I prepare a base of sauteed chard and spinach, which can go well as a side dish or to make a soup. The secret is the basics. In short, an intelligent way to conduct a healthy and complete diet throughout the week without getting bored!
Every month I will be happy to propose you a different, balanced and above all practical example of Meal Prep: to save time and minimize food waste. Stay tuned!
Dr. Benedetta Belli – Probios' Nutritionist