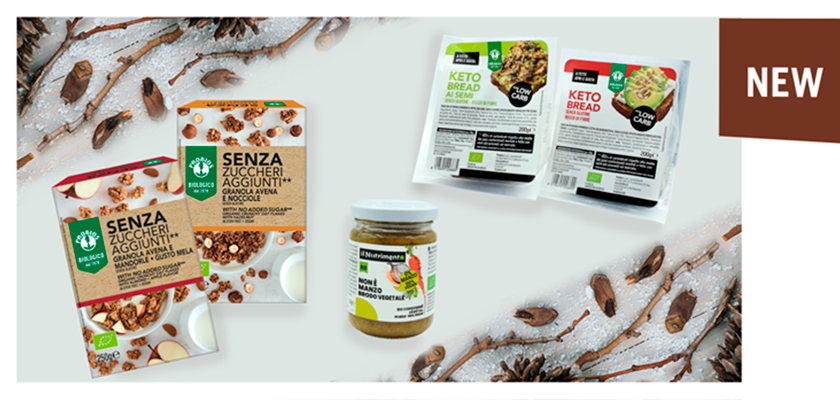 PROBIOS IS WELCOMING MANY NEW PRODUCTS THIS JANUARY: ARE YOU READY TO DISCOVER THEM?
Probios is welcoming the new year with so many new products that are dedicated to all of you who wish to discover how food can become a precious ally for overall wellbeing.
The first two news are breakfast products: Granola with Oat and Almonds, Apple Flavour, and Granola with Oat and Hazelnuts. Both of them have no added sugars and gluten free guaranteed.
Our no added sugar free range is designed to reduce the consumption of sugars by offering products that are sweetened just with organic erythritol, a natural sweetener that comes from the fermentation of corn. Also, both products are guaranteed vegan!
Next news is an absolute novelty in the organic world, Keto Bread: an organic alternative to bread made according the guidelines of the ketogenic diet. Made with tapioca flour, flax and sunflower seeds, it's available in two versions: with seeds and traditional with beetroot. Both of these products are LOW CARB and contain 65% less carbs in comparison to the average of similar sliced soft bread present in the market. The two products are also gluten free, pre-sliced and ready to eat.
Do you already know the ketogenic diet? It's been popular since many years and is targeted on weight loss, according the low carb, high fat diet principle. Ask your doctor before starting this or any other specific diets!
Last but not least, the very new "beef" flavoured vegetable stock: you got it right, it's 100% plant based and suitable for the vegan diet, but its rich and flavourful taste reminds of the traditional consommé made with beef! This product i salso guaranteed gluten free and can be used to prepare soups, risottos or to enrich any veggy dish.