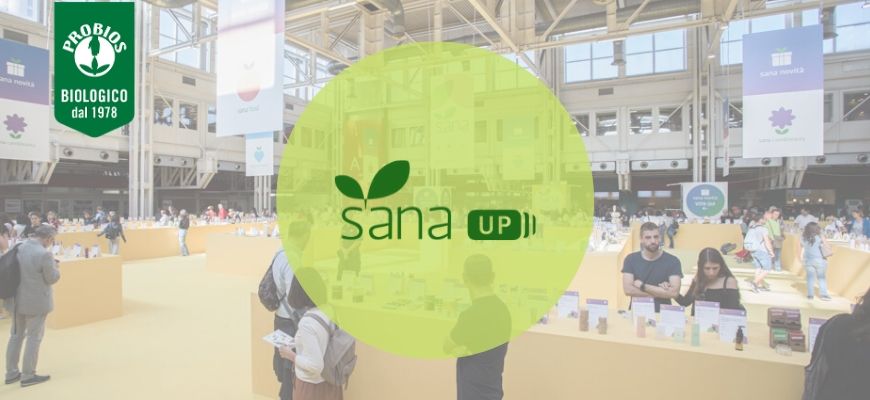 The new organic fair will take place at the same time as MARCA 2020 to respond to new market trends
Probios has always enthusiastically taken part in all the initiatives promoted by SANA, the main Italian fair dedicated to the organic and natural world, being present as an exhibitor since its very first editions. It is therefore with satisfaction that we announce our participation in the debut of SANA UP, the new "satellite show" designed by Bologna Fiere to respond to market trends in the organic and natural sector, increasingly requested by the DMO.
Organic, free from, traceability addressed in its different forms (technologies, packaging, innovative solutions) and collective catering will be among the highly topical issues that SANA UP will deepen on January 2020, 15th and 16th, on the same days of Marca by Bologna Fiere, thus amplifying the business opportunities and the synergies that can be activated between the participants.
Probios, present at Marca with its affiliates Il Nutrimento and Vegeatal, will be in parallel at stand C13 of the pavilion 28 dedicated to SANA UP and will present on this occasion its own lines of organic products, from the free from ones (gluten-, milk-, eggs- and yeast-free, without added sugars), to vegetarian and vegan ones, as well as its own company philosophy based for over 40 years on the cultivation of raw materials in respect of man and nature.
Italy is one of the first exporters of organic products in the world: for this reason, during Sana Up, business opportunities to foreign markets will also be explored, an opportunity to deepen the growing demand from across the border for organic products. Probios boasts a 360° export that spans a wide variety of countries, starting from Europe to the Baltic Republics, to the United States, Canada, South America, Africa, Russia, some of the Arab countries and of the Asian states (Singapore, Hong Kong and Japan). Probios' success abroad is due to the export of products mainly made with Italian raw materials and typical of the tradition (pasta, sauces, pestos, biscuits, jams, etc.).
We are waiting for you in Bologna at the SANA UP Pavilion 28 - Stand C13, as well as in Pavilion 26 - Stand 25 with Il Nutrimento and Vegeatal for MARCA!