---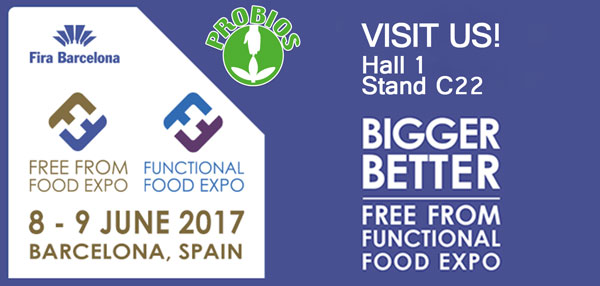 During this event, that will take place in Barcelona on the 8th and 9th of June, the italian leader company in the distribution of organic products for vegetarian and food intolerants, will present the pulses cous cous and the new panito's gluten free snacks.
 
Probios
 announces its participation to
Free From Food EXPO
, the international trade fair for "free from" and
healthy food
, that will take place in Barcelona the 8
th
and 9
th
of June.
The
"free from" food
sector scores, in fact, very positive trends. Just in Italy, according to the latest statistics, this kind of food marked a
growth in double figures
, especially in the
retail channel
, where new players are always facing the market. In Italy,
Probios
has been for over 35 years the leader in the distribution of organic vegetarian and vegan products, offering to clients and consumers innovative products, prepared respecting the environment and the biodiversity.
"choosing organic products is not enough: the attention on balancing the recipes and on the origin of the raw materials is a very important aspect" the Company explains. "For years, Probios has been working with universities and producers to develop local cultures, according the principles of sustainability and short supply chain. That's why, to us, it is really important to evaluate the origin of the raw material and the work of local producers at their best, supporting the zero kilometers cultivation and supporting the behaviours that will help make our world better, avoiding synthetized products and GMOs".
During the Free From Food EXPO, the tuscan Group will offer at its stand (
H01, C22
), its range and the latest product
news
. In particular, candied to the "Innovation Awards", the new
100% Gluten Free Pulses Cous Cous With Chickpeas and Red Lentils
, a naturally organic product, made with pulses flour only and perfect to everyone who want to have a tasty meal, with a brand new and original flavor, and the
Gluten Free Snacks from Panito
, made with buckwheat and chickpeas flour, available both natural and with turmeric.
At the stand, it will also be possible to try many more products: from
Govegan
, the 100% plant based line certified from Vegan Society, the company will present the
Spalmolio
, an
innovative condiment
made with solid cold pressed extra virgin olive  oil. Palm oil and cholesterol free, it is a natural source of vitamin  E, or the
5 snacks from Altricereali
, a complete range of
gluten free
products made with cereals and herbaceous plants, an alternative to the products that contain just corn or rice. Available in 5 different versions (snack with quinoa and buckwheat, snack with oats and quinpa, snack with buckwheat and oats, snack with lupins and beans, snack with chickpeas and lentils), the snacks from Altricereali are practical and perfect for a break, and are also a great source of fibres. Besides being gluten free and organic, those products are also suitable for vegan.
Click
HERE
to pre-register!