---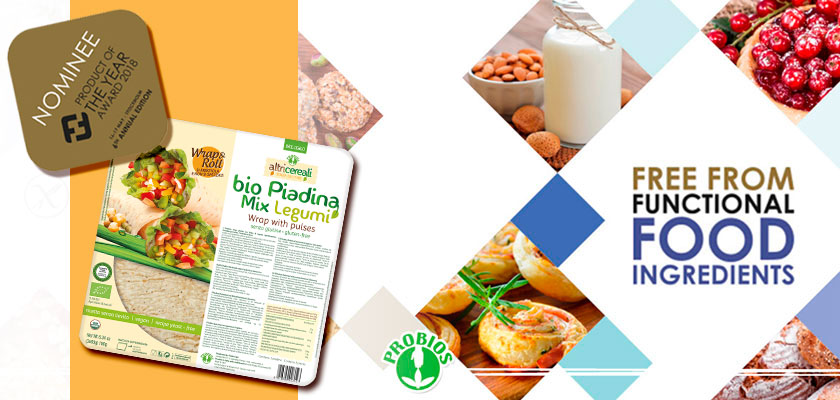 Probios, Italian leader company in the distribution of organic products for vegetarian and intolerant diets, with 40 years experience in the sector, will partecipate at the sixth edition of Free From Food Expo, that will held in May, from 16 to 17, at the Kistamãssan Exhibition Center in Stockholm. In a period of great growth in production and consumption of organic, gluten-free and vegan products, the Free From Food Expo represents a prestigious event and an opportunity for visibility for all the major players in the sector.
Probios will be at
Booth C34
–
Pav.1
with a wide range of vegan and gluten free products, such as pasta and snacks by AltriCereali, vegetal drinks and Mayorice by Rice&Rice, plant-based seasonings by Soia&Soia and GOvegan products. Many references too by the brand Il Nutrimento - since 2005 part of the Tuscan Group - that produces as well private label products mainly using raw materials grown in Italy, thus ensuring a short supply chain, a reduced environmental impact and the promotion of Italian organic farming.
Several events and initiatives scheduled during the fair dedicated to free from food, including the
Innovation Awards
, when the products that, during the year, have distinguished themselves for technical, gastronomic and process innovation in the free-from sector, will be awarded. In this context, Probios presented the new
Organic Gluten-free Wrap with Mixed Pulses – AltriCereali
, that has
received the nominee as "Products of the Year".
 Thanks to its special formulation, it can be easily rolled up preserving all its softness and avoid any breakings. The product, based on pulses flours (lentils and chickpeas), without the addition of animal fats and yeast, is guaranteed gluten-free and suitable for a vegan diet.
This is not the only one award obtained in the free from sector.
Recently, the
Mayorice Original Rice&Rice
and the
GOvegan Wheat Croissant
with chocolate cream
, have been bronze awarded at the
Free From Food Awards
, respectively for "
Store Cupboard
" and "
Breakfast
" categories. The award, established by FoodsMatter and FreeFrom Foods Matter and assigned by an English indipendent jury (industry experts, journalists, nutritionists, celiacs, chefs), every year since 2008 has been electing the best products that have distinguished themselves for their innovative and creative scope.
In Italy,
Probios
, with its 40 years of background, is the leading company in the distribution of organic vegetarian and vegan products, providing customers and consumers with innovative products, made
respecting environment and biodiversity
. The company also boasts the record for gluten-free organic references, and was the first to offer rice gluten-free pasta to the world in the 90s.
In fact, the
free-from products sector
recorded very positive trends. Only in Italy, according to the latest statistics, this type of product has recorded
double-digit growth
, especially in the
retail channel
, where new players continue to appear.