---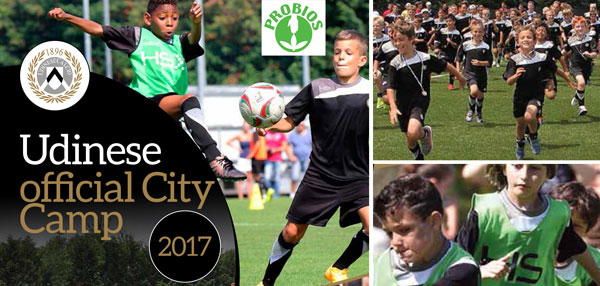 The Tuscan group raffles the fair play prize again this year: a reward that honors the young contestants, as champions for health and fair playing.
Even this year,  new appointment with the
City Camp of Udinese Calcio
: a training program conceived to teach kids and young guys the basics of football and to improve the personal performance, with an eye on the relationship between
food and sport
.
A theme that is very important for
Probios
, the Tuscan company leader in the distribution of organic vegetarian food but also the official sponsor of the event and creator of the "
Fair Play
" award, that  raffles a ball and a supply of organic food  to all the guys that will distinguish themselves for their good principles and their loyalty inside and outside the football field.
"in Probios, we have always believed that regular physical activity and healthy eating are the basics for a healthy growth. Udinese's City Camp represent a funny event and, at the same time, an occasion to spread this type of education among the kids and their families"
the company explains.
In order to live life and sport at their best, it is important to pay attention to our eating habits. Sportswise, where the energetic request is finalized to improve the performance, a correct and balanced diet is a really good help and in many case is part of the athletic preparation. For this reason,
Udinese Calcio
has been renewing for many year its trust in
Probios
, to give all of its athletes, both kids and adults, an
organic, personalized and careful about every intolerance diet
.
The relationship between
Probios
and Football began in 2005 with Palermo Calcio, where the technical staff, lead by Dott. Giuliano Poser and athletic trainer Claudio Bordon, were looking for and organic food supplier partner. The diet of the athletes was highly customized, basing on every single one's needs: a large use of whole and plant based food and the exclusion of refined sugars where some of the general indications of the team's new diet. Part of the Palermo's team then moved to Udine, especially Dott. Poser and Bordon that, basing on the excellent results and the good collaboration with Palermo Calcio, decided to involve
Probios
again, as a partner of
Udinese Calcio
.