---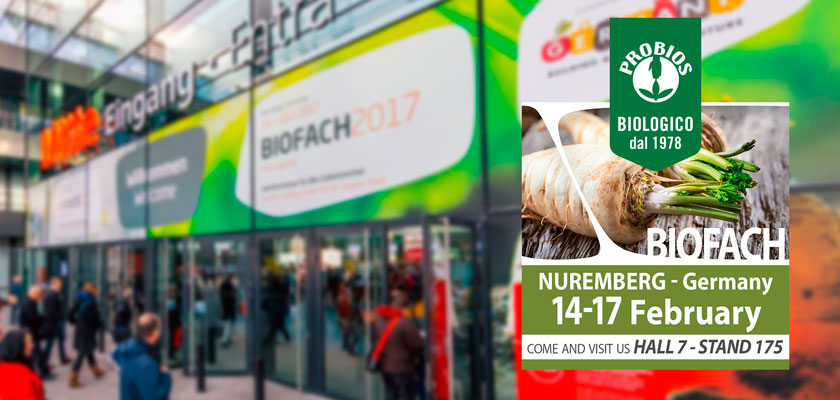 The leading company  for organic vegetarian and food intolerances product distribution will be presenting its novelties at the Biofach of Nuremberg together with its producer company Il Nutrimento
Probios, the Italian leader company in the distribution of vegetarian and food intolerances products, will be present at Biofach 2019 the world's most important fair for organic and natural foods, with over 3,000 exhibitors, around 10,000 products and 50,000 visitors from 134 countries every year.
The Tuscan Group will occupy a distinct space together with Il Nutrimento, since 2005 part of Probios, a company specialized in processing organic vegetables, which at the fair will mainly present private label products.
In both the  stands there will set up product tastings where the company is going to suggest how to use the wide product range in the kitchen.
Biofach 2019: what's new
On the novelties stage the new organic spreadable creams in tube will be the main actors. The spreads, all produced by Il Nutrimento, are packaged in a no-waste recyclable aluminum tube and the whole line numbers seven salty creams items - Natural soy mayonnaise or with turmeric and ginger, Mustard, Italian black olives cream, Artichokes cream, Hemp and basil cream, Double concentrate of Italian tomato- and three sweet variations - White with Milk, Dark with Hazelnuts, with Milk and Hazelnuts.
The latter one was a great source of pride for Probios: the Spread in Tube with Milk and Hazelnuts will be in fact exhibited at the "Novelties Stand" to compete for the Best New Product Award that will be proclaimed on February 15th at the Hall 8, Stand 8-505.
A special space will be reserved also to the Cream in Tube Dark with Hazelnuts  in the context of the "World of Vegan", at Hall 4 - Stand 100: on February 14th a corporate exponent will participate to a Snap Talk, showing new ways to prepare healthy snacks with Probios plant-based products.
The Fair will be also an opportunity to present the latest Probios products: multi-grain gluten-free pasta, gluten-free natural donuts or with chocolate chips and gluten-free rusks.
Probios and Il Nutrimento
2019 Biofach - Nuremberg Messezentrum 1
February 13th – 16th, hall 7 - stand 175