---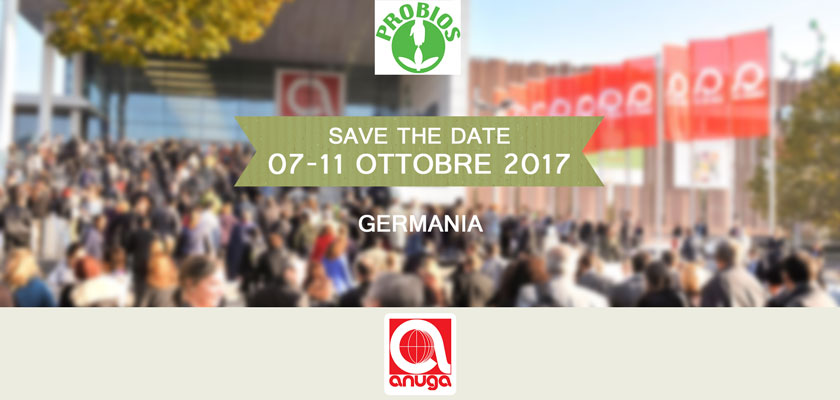 After the recent success at SANA, Probios Group announces its participation to "ANUGA 2017 –Taste the Future", that will take place in Koln in October, 7th to 11th. The exhibition, that takes place every two years, is the most important international event for the food and beverage sector.
Probios
will be present at
Pav. 5.1, stand D081
, where will present its vegan and gluten free products, with  a special focus on the innovative range proposed by
Il Nutrimento
, the manufacturing company part of the Group that produces sauces, pestos, flavored oil, capers, bruschettas, olives and vegetable spreads, mostly using Italian raw materials, to ensure a short supply chain, a reduced impact on the environment, and the promotion of Italian organic agriculture.
Among the latest news from the group, the
Black Kale Pestos
and the
Organic Spreads in Tube
from
Il Nutrimento
, the
gluten free snacks "Crocchetti"
by
Panito
and Probios'
Organic Chips with Pulses
: four brand new products that combine the innovative and creative spirit of the company with its attention to high quality, organic and free from food.
"
The brand new Bio in Tube range answers in facts to the need of quickness and practicality of the modern consumers: the aluminum tube, perfectly recyclable, is perfect to use the product without wasting it, and ensures the preservation of the product, once opened. Each product is, moreover, easily recognizable thanks to its color and is presented on a practical tray
", explains Probios' marketing department.
Probios'
organic Chips with Lentils and Rosemary
, and the
Soy Mayonnaise with Turmeric and Ginger
in Tube
from Il Nutrimento are also candidated to
Italian Food Awards
, the award for innovative food products – organized by the
Food Group
and created by
Italianfood.net
– that will be consigned at Anuga on the 8
th
of October. Koln will in fact host the award ceremony of the international prize dedicated to the Italian food&beverage excellences.
Download the official
Press Realease
.
Check out the
New Stuff
presented at Anuga.