---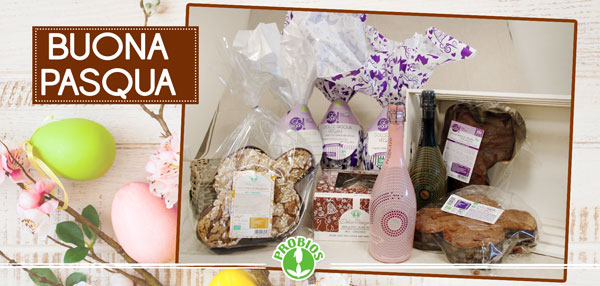 Two months after Christmas, and after two months of non-stop work, are you looking forward to celebrating Easter? Just a few, but needed, days of rest, to charge our batteries before a couple more  moths of working days.

You might spend it with your friends, with your family or on holiday, but Easter is definitely one of the best occasion to stay together and celebrate, that's the reason why our motto is #Easterforeveryone.
Like every year,
Probios
offers the unique
Easter Cake
, in 4 varieties, the
Traditional one
, two
Gluten Free ones (Plain
, or with
Chocolate and Hazelnut Filling
) and
Vegan
. For kids and greedy adults, also the
GoVegan Easter Egg,
available in three vegan, gluten free and fair trade versions, to eat with all of our family and friends: with
Soy Drink
,
White
and with
Dark Chocolate
.
Moreover, for those of you who will decide to celebrate Easter outside, here are some tips and suggestions for you:


In town: spring would have already arrived, so, why not deciding to visit a town and go around? Our advice is Palermo, this year's italian culture capital and, for this reason, protagonist of many events and works of art. But also, Verona, Mantova, Perugia, Orvieto and Florence. The Oltrarno area has in fact been proclaimed the coolest in the world by Lonely Planet


Parks: nature, far away from smog and stressful city life is also a good option. For this reason, among the natural areas distributed all around Italy, our advice is the beautiful Parco Sigurtà in Verona, but also the Parco delle Foreste Casentinesi, between Tuscany and Emilia Romagna, the Maremma National Park, the Parco Regionale del Matese, between Campania and Molise, the Gargano National park and the Conero Park, in Marche.


Europe: a few days off are perfect to visit warm European countries and cities, like Sevilla, proclaimed one of the 10 best destinations of 2018, but also Cote d'Azur, Lisboa or the Canarian Islands.


Agritourisms: if you just wish to eat tasty food close to home, Easter is the ideal occasion to spend a few days to an agritourism, maybe next to a lake or up on the hills, to have a breath of fresh air, far from our routine, and to just relax.


Those advice are designed for those who love traditions, travelling and family, for those who do not want to give up to culture during holidays, but they are also especially designed for the greedy ones, and we want to remind you that the most important thing is to take care of yourselves, taking care of your health also with food, during the holidays, dedicating yourselves and your beloved ones a special pamper moment for an
#Easterforeveryone