---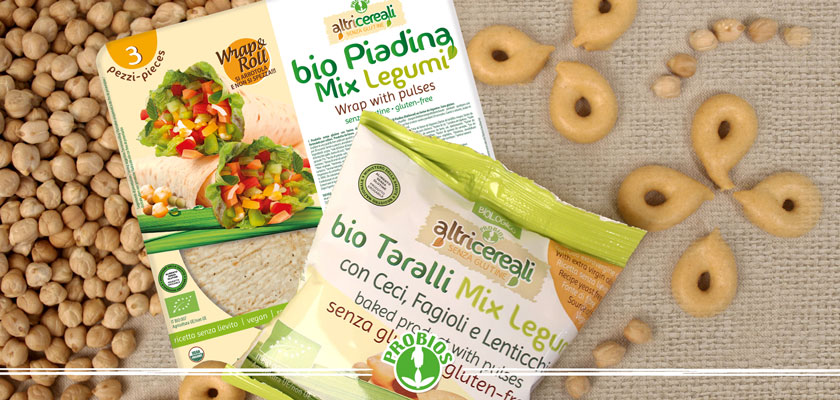 We all know it, with the warm weather approaching we do not want to spend long time in front of the stove anymore, and we tend to rotate towards something quicker and easier to prepare, often substituting the traditional dinner to a happy hour in the backyard. How to satisfy this cravings, then?
Flatbreads, in this occasion, is definitely the queen of quick lunches and dinners, and it just takes a few minutes to be ready. Perfect both warm and the day after for lunchbreak, it's perfect throughout all day, both for kids and adults. The
Flatbread with Mixed Pulses from Altricereali
can in fact be prepared in many different ways, and stuffed with whatever you have in the fridge or in the pantry. With a simple flatbread, you can give life to delicious meals, always coming out with original ideas: it's the real protagonist of warm seasons, and you will never have enough! For example, you can both wrap it or fold it, without any risk of breaking. In facts, its recipe, made with pulses flour (lentils and chickpeas), makes its extremely soft and suitable for those who follow a vegan diet. Moreover, the
Organic Flatbread with mixed Pulses
is also gluten free guaranteed and perfect for everyone!
While waiting for your flatbread to be ready, why not snacking on the new
Taralli Snack with Mixed Pulses
? Made with 38% pulses flour (chickpeas, beans, lentils) and enriched with evo oil, the new Taralli are perfect for gluten free and vegan diets. Moreover, being packed in 30g single serving packs, they're also perfect as a snack on the go: in fact, a healthy snack inbetween meals is crucial to maintain our energy levels high and to boost our metabolism, in order not to arrive too hungry at dinner time.
So, are you ready to surprise your family and friends with these new pulses-based delicious ideas?