---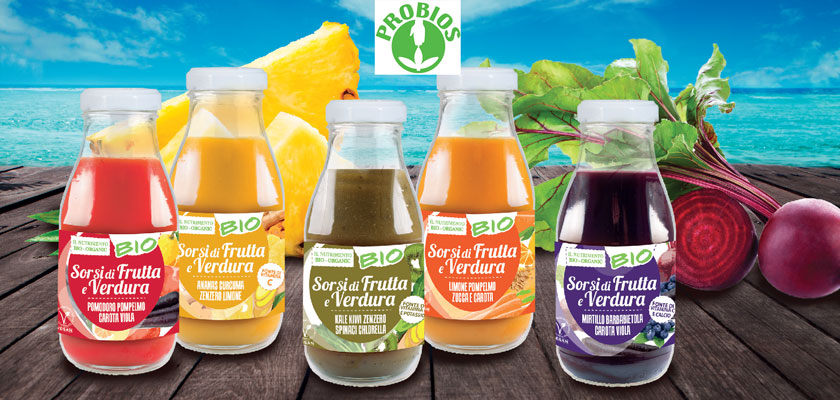 A Smoothie range <Juice Drops with fruit and veggies> with many high quality nutritional values, those product are 100% organic fruit and veggies based. The real benefits of nature in 5 different colors that distinguish the innovative and refreshing recipes. Gluten free guaranteed and sweetened with sugars from fruit, you can try the whole range: Orange, Yellow, Red, Purple and Green.
YELLOW – Orange, Turmeric, Ginger, Lemon
Turmeric, a well known ingredient in the oriental tradition for its precious characteristics, has the golden color of the hot yellow sun, that combines with the fizzy and refreshing taste of the ginger and the lemon, for a nice boost of vitamin C.
ORANGE – Lemon, Grapefruit, Pumpkin and Carrot
Orange is the color of the intense summer sunset around the pleasant fresh air and is enchanting like the taste of the pumpkin and the carrot, but refreshed by the fresh flavor of citruses.
RED  - Tomato, Grapefruit, Purple Carrot
We all know that red is the color of passion and summer love affairs, but it is also the color of action, strength and bravery… let's sip it as a fresh and natural happy hour, with 100% fruit and veggies!
GREEN -  Kale, Kiwi, Ginger, Spinach and Chlorella
Did you know that Chlorella is called like that because its color is similar to chlorophyll? All of the flavor of life of nature in this precious juice with greens, vitamin C and Potassium.
PURPLE – Blueberry, Beet and Purple Carrot
Blueberry, Beets and Purple carrot for a boost of great nutritional properties, vitamin C and calcium, to merge yourself in the color of fantasy, magic, inspiration and creativity!
From smell to taste, you can easily distinguish every ingredient: definitely, they're completely different from the "traditional" similar brands available in stores!