---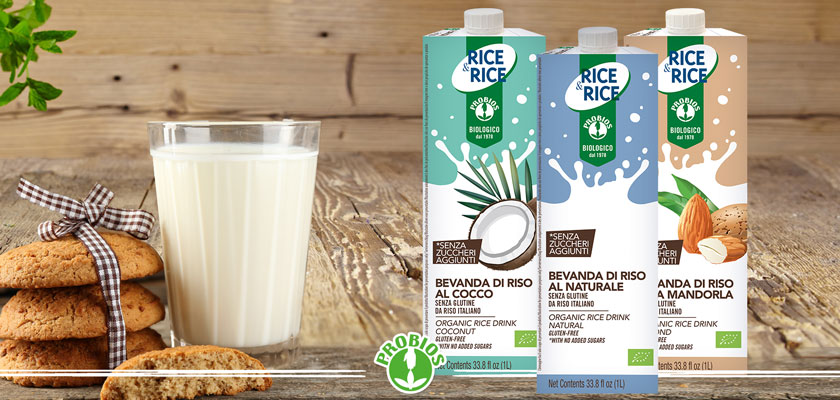 How much do you drink in one day? Yes, that's a good question! Many times we have been told that it is very important to introduce a good amount of fluids into our body to maintain a good level of hydration, starting with breakfast and continuing throughout the day. However, for some people this is not yet a well established habit, so why not add a little taste to every sip?
Probios
thought about it for you and offers you a range of delicious organic
Italian rice drinks with no added sugar, no lactose and no gluten
, which are also suitable for those who follow special diets.
Rice Drinks of the Rice&Rice
line are ideal to start with taste from breakfast, are great both hot and cold to savor the perfect combination of taste and creaminess. If you add some cereals or biscuits, you will begin to lick your lips at the thought!
Also the data revealed by the Nielsen analysis and by a study by Rabobank show how this category of drinks is already highly appreciated by consumers: in particular, an exponential increase in the consumption of vegetable drinks over the past decade has been recorded as an alternative to milk, with a constantly growing market in the last two years. Among the people who appreciate most this type of drinks, we find above all a female audience that prefers flavors from almond to rice.
Probios
decided to satisfy all palates, offering a wide range:
Rice & Rice Rice Drinks
are in fact available in
natural
,
cocoa
,
vanilla
,
almond
,
hazelnut
,
coconut
and
vegetable stock
. Colors and flavors that reflect the warm summer season and, perhaps, even one of the products to be included in your bag-fridge and ideal to take with you to the beach. In fact, they are also available in smaller sizes of 200ml and 500ml to always be carried with you!