---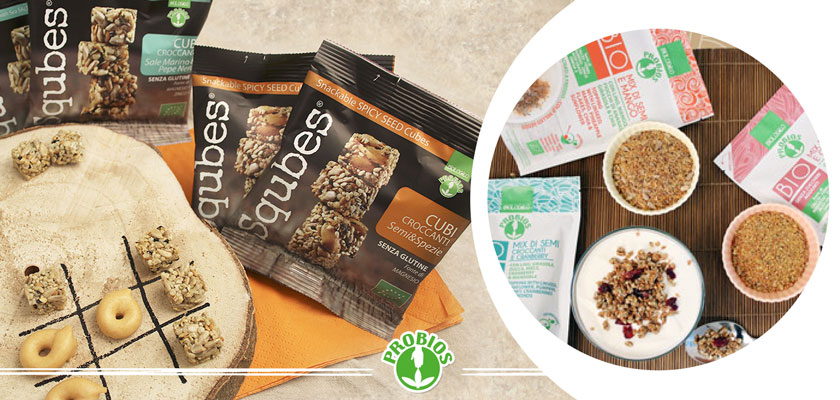 Tasty easter treats have just gone by, summer is approaching…but we are still continuing to delay the day 1 of our diet! But…who said being healthy necessarily means giving up to taste?
We offer many alternative to give your breaks, occasions and meals an extra touch, such as the
brand new Toppings with Seeds
and the
innovative Squbes
, both "free from" and "rich in" food! Suitable, then, for a gluten free diet, but also high in nutrients, to face the day with the right amount of energy and taste.
Probios' Toppings with seeds, available in 3 tasty versions, are cold milled mixes of seeds, ideal to enrich muesli, spreads, sauces and yogurt, but also bread, salads, soups and many other recipes, as suggested on their pack.
Theyare also high in minerals, different according to each formulation. Seeds are in facts great on a nutritional pint of you, and everyone should include them in their daily diet, especially those who follow a vegetarian or vegan lifestyle.
Let's discover them together!
Crunchy Seeds Topping and Cranberry
The Organic  Crunchy Mix of Seeds with Cranberry is enriched with flax, sunflower, pumpkin seeds, but also with honey and cranberry, and is a natural source of nutrients such as iron, magnesium, zinc and omega 3.
Seeds Topping with Goji
The Mix of Seeds with Goji contains flax, chia, sunflower and pumpkin seeds, and is a natural source of iron, calcium, magnesium, zinc and omega 3.
Mix of Seeds with Mango
The Mix of Seeds with Mango contains flax and sunflower seeds, but also mango, pineapple flakes and chia, and is a source of calcium, iron, magnesium, zinc and omega 3.
Also, do not forget about the
Squbes
. Source of magnesium and zinc, also gluten free and available in two versions, with
Salt and Black Pepper
, and with
Seeds and Spices
, they are exclusive snacks in Italy, and with their cubic shape, they're perfect on the go!
What are you waiting for? Being fit with taste has never been so easy!