---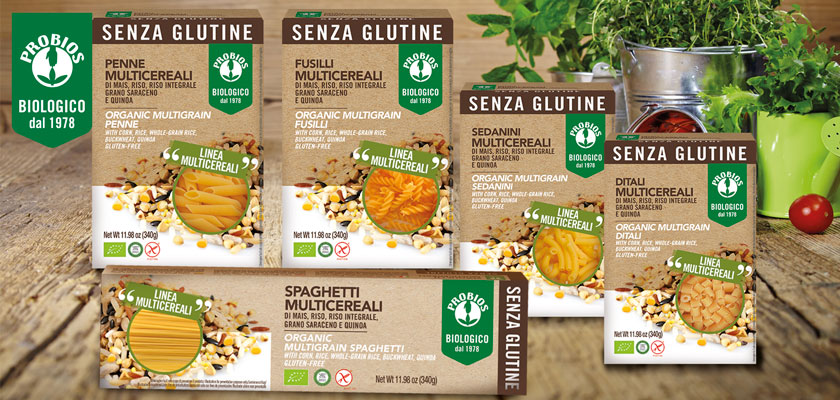 A new year has started and we are ready to inaugurate it at best, giving you some Probios product innovations and cheer your moments at the table up after going back to work.
What have we thought for you? Let's find it out!
Probios has created a new pasta specialty in multi-grain version: the new
Probios gluten-free Multi-grain Pasta
is made from organic corn, rice, brown rice, buckwheat and quinoa flour, all minced in Italy.
Its special formulation with gluten-free cereals makes this pasta a product suitable for those who follow a gluten-free diet. In fact, the barred spike logo of the Italian Celiac Association is reported in the pack, and the product can be prescribed  on the Italian National Health System.
A tasty first course, excellent also to replace traditional pasta, for those who want to try a new taste, change their diet and enjoy alternative cereals. Thanks to its particular processing and optimal consistency during cooking, you will get a tasty pasta capable of absorbing all the flavor of the seasoning.
Short or long Pasta sizes?
You know, there are those who prefer short pasta in the plate and who, instead, prefers to roll the spaghetti. Precisely for this reason we wanted to satisfy everyone's needs, giving you five different sizes of 340g each, here's what they are:


Fusilli


Penne


Sedanini


Ditali


Spaghetti


With the arrival of the new year, in addition to new tasty dishes, Probios offers you a new packaging too: the products, in fact, are available in a paper box with transparent window. A way to start the year with good intentions for the environment.
But the Probios novelties do not end here... stay tuned!