---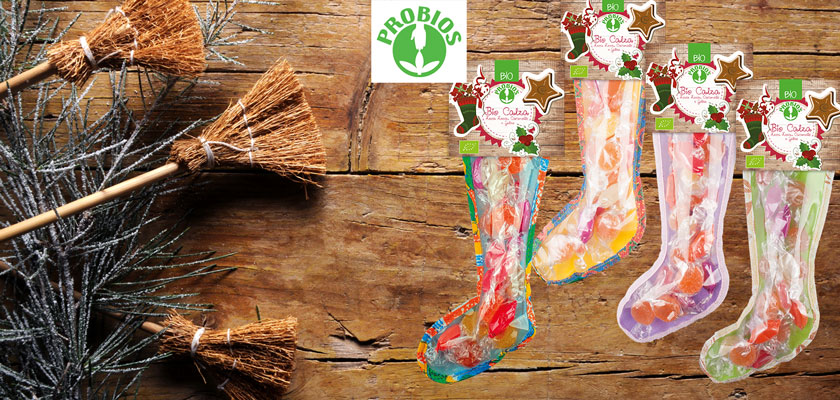 Finally, Epiphany has arrived and Christmas holidays are coming to an end: we are all ready to get back to our routine, with stress and many things to do that are waiting for us.So, let's  take advantage of the last days of rest to visit a new place or to satisfy our sweet cravings, maybe next to the shiny Christmas tree that, as you might know, we decorated with our DIY projects recycling the packs of our products.
As the story teaches us,
Epiphany
has ancient origins and comes from pre-christianity: the legend of the "
Befana
" and its gifts have become now a reference to the gifts offered to
Jesus
by the three
Wise Men
. Nowadays, in Italy, this festivity has a completely different meaning and the Befana awards the kids according to their behavior with a
stocking
with treats
inside.
For all the kids (and not only!) that behaved well, Probios designed a really special stocking: the
Organic Epiphany Stocking
, that loves nature and its packed with organic treats, perfect for everyone. The treats, the candies and the lollipops are in facts
organic and gluten free
, perfect to donate a moment of joy and fun to everyone.
Moreover, for those of you who wish to combine the deliciousness to some fun, here are some initiatives and locations to visit to enjoy the beauty of the
Italian festivities
: here are some of the main events:
The Capital of Italy: in Piazza Navona, the traditional appointment with the treats market and the carousels for kids. Also, do not forget to take part to "Viva la Befana", a parade that starts from the morning of the 6
th
January, from Castel Sant'Angelo to Piazza San Pietro, with many historical reconstruction, traditional gowns, and of course, the three Wise Men and the Guiding Star.
For the most romantic ones, a trip to Venice is the perfect occasion to assist to the traditional "Befana's regatta", from S. Tomà to Ponte di Rialto, where the ancient rowing teams will challenge themselves. At Ponte di Rialto, then, the Volunteers from the Forza Rosa will distribute candies and hot chocolate to everyone.
To celebrate Epiphany with music and colors, definitely visit Naples and the great Parade at Lungomare Caracciolo, with many street artists, animations and fun. At Piazza Plebiscito instead, the Befana from the Firefighters will climb down the monuments and will distribute treats to everyone.
So, happy Epiphany and wish you a great 2018!