---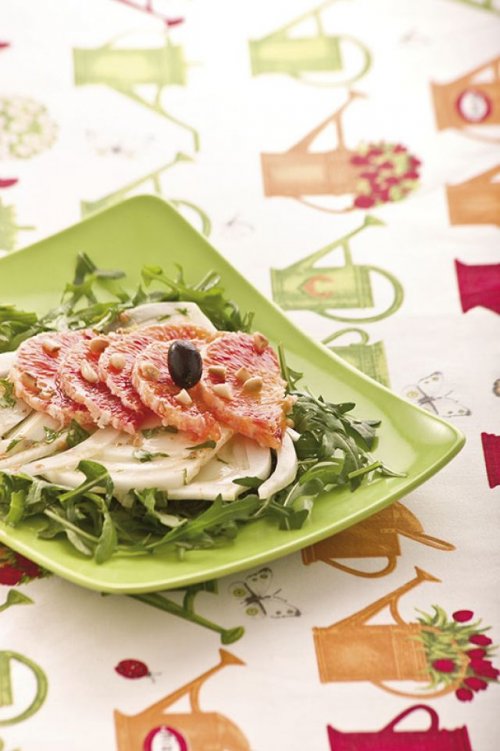 INGREDIENTS
- 4 fennel
- 2 bunches of arugula
- 2 oranges
- 1 lemon
- 20 g of pine nuts
- 4 black olives
- 1 tablespoon chopped parsley
- 1 teaspoon coriander beans
- Oil
- salt
- pepper
PREPARATION:
To be prepared in advance!
1 Squeeze the lemon juice and pour it into a small bottle or in a glass jar, add a pinch of salt, 2 tablespoons of olive oil, parsley, coriander grains crushed or grounded, mix the ingredients thoroughly until getting a smooth emulsion.
2 Peel the tough outer leaves from the fennel, keeping only the most tender, then cut them in half, slice them very finely and combine with the emulsion by mixing several times and letting them marinate for at least 2-3 hours.
3 Toast in a thick-bottomed saucepan, just before serving, the pine nuts over a low heat for about 5 minutes. Peel the oranges, cut them first in half and then in half slices, season with a pinch of salt, freshly grounded pepper, 1-2 tablespoons of olive oil and pine nuts crumbled with your fingers or left whole.
4 Finely chop the arugula and spread it out on the bottom of 4 dinner dishes (or on a single dish) arrange the marinated fennel with all their sauce and on them and the slices of orange, decorate with olives in the center of the dish and serve right away.
INFO:
Course - outline
Servings - 4 people
20 minutes preparation
5 minutes cooking
Difficulty - Easy
150 kilocalories