---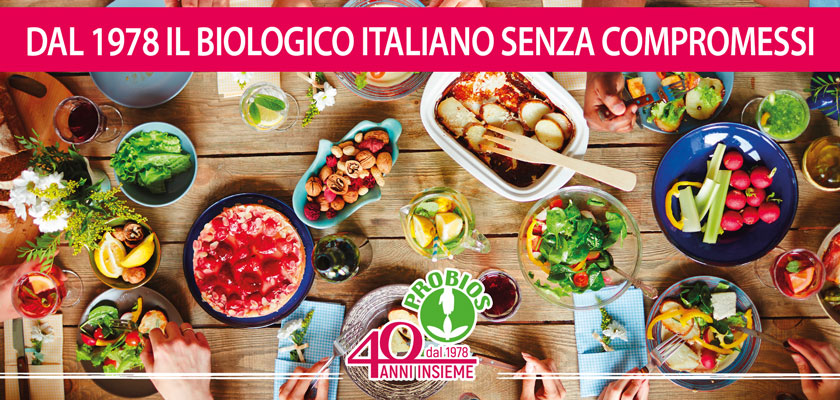 After celebrating its 20th gluten free anniversary in  2017, this year Probios is getting ready to celebrate a new important milestone, its 40th years anniversary.
The best wishes for this special year come directly from
Fernando Favilli
and
Rossella Bartolozzi
, Probios' CEO and CFO, with a funny double interview where they speak about themselves and Probios, company established in 1978 in Florence, now leader in the distribution on vegetarian organic food.
Fernando Favilli and Rossella Bartolozzi lead Probios since
1990
: the dedication to this project comes from their passion towards natural food and from their wish to spread the consciousness that organic food is a true lifestyle and not a simple fashion or a diet for just a few people. Thanks to their determination and to their  passionate coworkers, their dream has come to reality and now, Probios is a company that distributes in 43 countries, with more than 900 items sold.
The second chapter of the celebrations sees
marketing and sales
as protagonist with the eternal dilemma: adversaries or allies?
Elisa Favilli
, marketing manager, and
Daniele Novi
, sales manager, duet in this interview, but laughing and joking reveal the strength of the company.
Probios, has the name itself says (
Pro – bios, in favor of life
), was established with the firm belief that
selling organic products is not just a matter of business
, but
a way to favor those behaviors that contribute to make our world a better place
.
As Rossella and Fernando explain, Probios means "
quality, respect for all the human beings and the environment
" but also "
innovation, dynamism and sympathy
". During its long journey, the company has maturated, innovating day after day, to answer the needs of the consumers without giving up to the values that have always distinguished it.
In fact,
Probios has been promoting organic for more than 40 years
: purchasing this type of product means in fact choosing societies that demand an accurate selection of cultivation methods and raw materials, that do not give up on using herbicides, antiparasitics, chemical fertilizers or GMOs, that pollute our land, our water and our air.
For this reason, Probios keeps choosing suppliers with a
short supply chain
, such as
Il Nutrimento
, and to support campaigns, such as
#ipesticididentrodinoi
promoted by
Federbio
. A successful mission, then, that Probios wishes to support for as long as possible, for the sake of its consumers and the environment, to make sure these first 40 years will only be the first of a long series of important milestones.
A long story that we will tell you throughout this year, on our blog and social media, through the voice of all of the people that contribute, day after day, to support this important project. In the meantime, here is Rossella and Fernando's interview and their best wishes for 2018!!!
I° Double Interview (Italian Only):
Fernando Favilli
(Presidente) vs.
Rossella Bartolozzi
(CFO) struggling with the company mission!
II° Double Interview (Italian Only):
Elisa Favilli
(Marketing Manager) vs.
Daniele Novi
 (Sales Manager) with the eternal dilemma... enemies or allies?!