The Company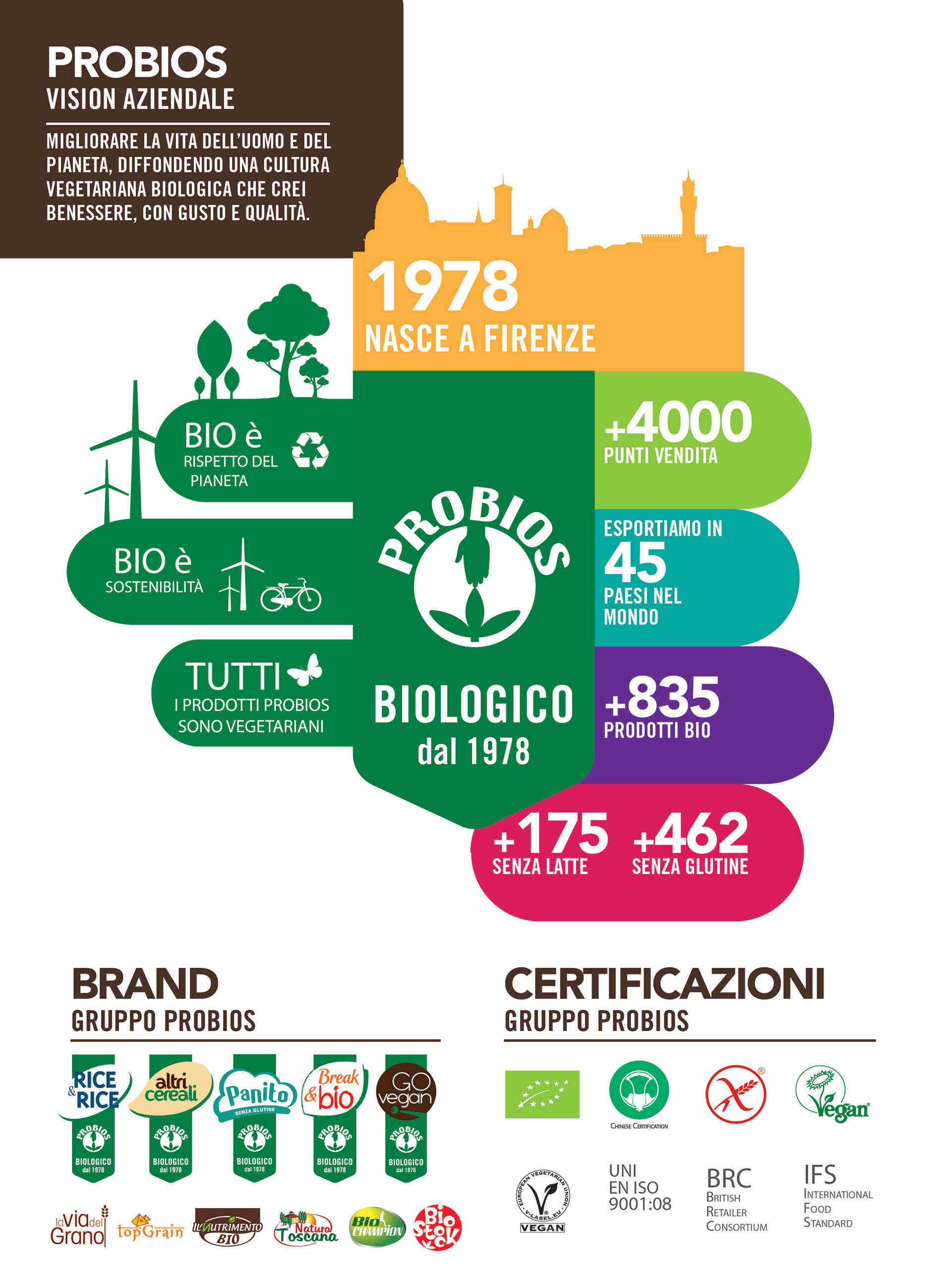 HISTORY AND VALUES

Probios, the Italian leader in the distribution of vegetarian organic foods, has been promoting the cultivation of raw materials with respect for humans and nature for over 35 years and for many years has also been creating and marketing product lines suitable for people who need to follow special diets.
The name of the company, which comes from the Greek PRO (in favour of) and BIOS (life) – in favour of life – encompasses the principles and values that have guided the people who have been working right from the start and continue to inspire its ongoing development.
Since 1978, the year when it was founded, Probios has been offering a wide choice of organic foods, with respect for health and the environment.
At the start of 1990, Fernando Favilli and Rossella Bartolozzi took over the management of Probios, who, united by their passion for natural products, made a commitment to making organic food not just a fashion or elite style of eating, but a real way of life for everyone. Thanks to their determination and enthusiastic, well-qualified employees, their dream came true: Probios is now the leader in the organic food market.
Probios was founded with the conviction that selling organic products is not only a reason for doing business, but also promotes behaviour that contributes to improving our world. In fact, buying this type of products means choosing companies that demand careful selection of the growing methods of the raw materials and do not accept the use of weedkillers, parasiticides, chemical and synthesised fertilizers and genetically modified organisms that pollute our earth, water and air.
"Verbessere das Leben der Menschen und unseres Planeten, indem du eine biologische, vegetarische Kultur verbreitest, die Wohlbefinden, Geschmack und Qualität schafft."
Probios hat in dieser Branche 40 Jahre Erfahrung und bietet ein breit gefächertes Angebot, und kombiniert die Auswahl von hochwertigen Rohstoffen und ausgewogenen Rezepturen, um den Verbrauchern Produkte mit außergewöhnlichem Geschmack anzubieten.
SOME DATA
Probios, which is based in Florence, has a presence in 43 countries throughout the world. In Germany, the country which is the unrivalled top of the organic market, Probios has its own subsidiary (Probios Deutschland).
90% of the approximately 900 products sold are Probios branded and 85% of the suppliers are Italian. 70% of the raw materials used for making the products are grown in Italy.
The Group sells over 420 gluten-free products and about 140 milk-free products. Many products are spelt based, with Khorasan KAMUT® wheat or made with alternative cereals.
Through the Biostock brand, born in 2003, Probios also offers the widest range on the market of bulk ingredients in large format, selected and certified, such as cereals and spices, pulses and seeds, flours and starches, oils, condiments and gastronomy products, thus addressing manufacturers, laboratories and the Ho.Re.Ca channel. Biostock provides the highest amount of gluten-free raw materials, some of which are included in the Italian Coeliac Association handbook
The Group
As well as Probios S.p.A., the Group is also made up of other 2 operative companies.
IL NUTRIMENTO
Il Nutrimento processes fresh organic vegetables, which it carefully prepares and seasons to give life to traditional Italian products. It In fact produces pasta sauces, vegetables preserved in oil, bruschettas, olives and vegetable patés, using a handmade method so as to conserve their nutritional and organoleptic properties. Many of the company's products, which are certified by the Italian Vegetarian Association due to the absence of animal products in their recipes, are guaranteed to be gluten-free and are included in the Italian Celiac Association handbook.
Since October 2016, the production of the products of Il Nutrimento has been moved from Cremosano (CR) to Calenzano (FI), where Probios has its headquarters. The new avant-guarde facilityhas a surface of 1750 m2 and, with the group leader, represents nowadays one of the biggest reference point for organic products in Italy. A very important project for the Company, that can definitely rely on the short supply chain: farming, manufacturing and distribution are mostly made in Tuscany. The company also develops products on behalf of a third party, mainly using raw materials harvested in Italy, to ensure a shorter supply chain, a reduced impact on the environment and the promotion of the Italian organic agriculture.
In 2017, Il Nutrimento has reached three new certifications: IFS Food Standard, which certifies compliance of all references of the line with the unified standards of quality assurance; BRC Global Standard for Food Safety, which demonstrates the company's ongoing commitment to safety, quality and compliance with the rules governing the agri-food sector and UNI EN ISO 9001:2015, which defines the company's correspondence with the standard which determines the requirements of the management system for the quality of the organization.
PROBIOS DEUTSCHLAND
Probios Deutschland, a subsidiary of Probios Group, was founded in 2005 in Germany, which is Europe's first organic market. Based in Graben, an important logistics and industrial area about 20 km south of Augburg and about 60 km south-west of Munich, Probios DE counts on a warehouse of approximately 600 square meters and 80 square meters of offices. From here, leave daily about 650 references, mostly gluten-free products and from the line Il Nutrimento for the German and Austrian markets.
A strongly growing reality, which saw organic increase approximately 11% only in 2016 and specialized channel billed 3.21 billion euro, an increase of 5.6% over the previous year. That's why Probios trademarks are widespread in this distribution channel through wholesalers of trust both regional and national, and using the private label from which it derives about 30% of the total turnover.
Probios DE is also present, with all its gluten-free products, in the memorandum of the DZG (German Celiac Society) and all its references are published on the website Ecoinform, the database of Bio-specialized. Finally, the subsidiary is a supporter of the association Naturkost Süd, which brings together retailers and resellers of independent health food in southern Germany.