Discover BioChampion:
the 100% natural food range for your fitness goals
Are you ready to seize
ALL THE POWER OF NATURE?
Biochampion range is designed for those who play any sport, for fitness lovers and for all of those who live an active lifestyle. The range includes a wide range of products with specifically designed nutritional values and is divided into two categories: FIT e PROTEIN, each of them designed to hit the goals of STENGTH e POWER.

BioChampion can support you throughout all day, giving you the right kick for your workout thanks to the richness of only vegetable protein.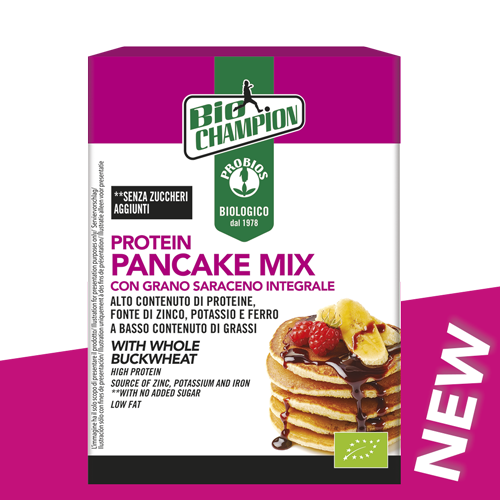 Probios' Protein Pancake Mix is a pre-made mixture to prepare pancakes with high protein and source of fibres, made with fava bean flour and whole buckwheat. It's perfect to increase the protein intake from your breakfast and to give you the right energy you need before your workouts. As part of the BioChampion range, this product is source of zinc, potassium and iron, has no added sugars and it is also gluten free and suitable for the vegan diet, as it does not contain any milk or eggs.

Prepare your protein pancakes in just 3-4 minutes according to the cooking indications reporting on the label. Available in 200g format.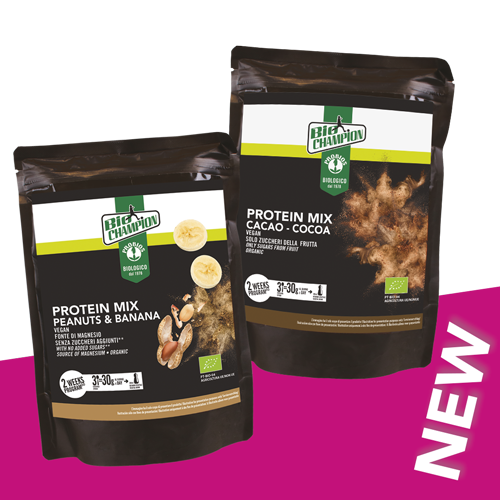 Protein Mix Cocoa Probios and Protein mix Peanuts&Banana are a mix of organic powdered plant protein, ideal to add to drinks, smoothies, porridge, pancakes and other "fit" snacks; both of them are gluten free and vegan certified.

2 weeks program: blend 3 tablespoons (approximately 30g) of Protein Mix with 300ml of vegetable mix in your shaker, sweeten to taste and repeat the process for two weeks. Sip it throughout the whole day: you will ensure yourself organic, natural and lively energy for your workout! Both available in 420g format.
DOWNLOAD THE RECIPE BOOK
WRITE YOUR EMAIL ADDRESS BELOW, DOWNOLOAD OUR E-BOOK AND DISCOVER ALL THE RECIPES AND FEATURES OF OUR PRODUCTS
FILL THE FORM AND DOWNLOAD THE RECIPE BOOK FOR FREE