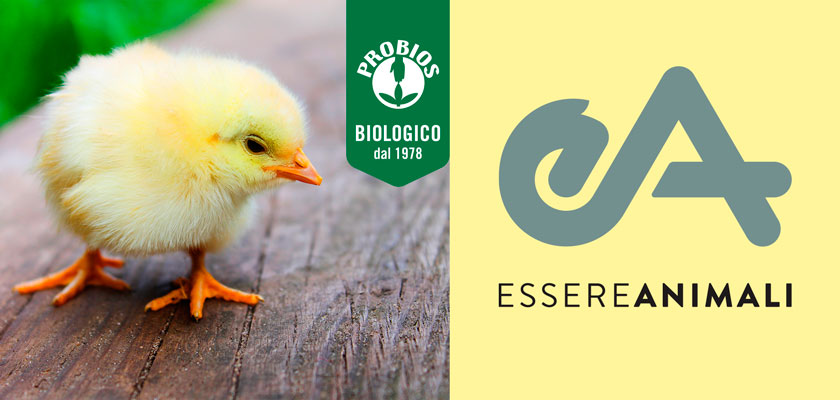 Every year, on the occasion of the Easter holidays, a sad fate is repeated for thousands of lambs: ending up at the slaughterhouse, cruelly killed to meet the meat demand from the food market. Although consumption is decreasing, this tradition continues: we are convinced that a sharing moment like Easter doesn't need similar cruel practices perpetrated against our animal friends.
Fortunately, initiatives to defend their rights are gaining strength and resonance. For years Probios has been collaborating with Essere Animali (Being Animals), a non-profit association which, through investigations in intensive breeding and awareness campaigns, aims to build a world where animals are protected and respected.
Until Easter day, by purchasing on our shop online, you will contribute to supporting the #ChangeEaster campaign: for each order received, we will donate € 2 to the Essere Animali Onlus association. Within each order you will find an association sticker and an in-depth flyer on the campaigns that Essere Animali promotes against exploitation in intensive breeding and, specifically, on the campaign for an Easter against the lambs mass killing.
The change depends on each of us: for this reason we choose to contribute in raising public awareness, to make people conscious of their food choices power and the strength that the ideas assume if they are shared and carried out with dedication, empathy and enthusiasm. For a better world for everyone, men and animals.
Probios has always tried to answer to vegan consumers needs: our wide selection of vegan products is designed for a new and ethical approach to nutrition, without sacrificing taste. Probios vegan products naturally guarantee the exclusion of animal origin raw materials in the recipe and many have the official Vegan Society certification.
Contributing to the creation of a different world where it's possible to live together without violence and discrimination against other species, to protect biodiversity and to encourage a new widespread ecological culture are the intentions shared by Probios and Essere Animali: a common commitment in favor of life.
From this year #ChangeEaster: help us change the fate of thousands of lambs, giving them the best gift: the opportunity to go on living!