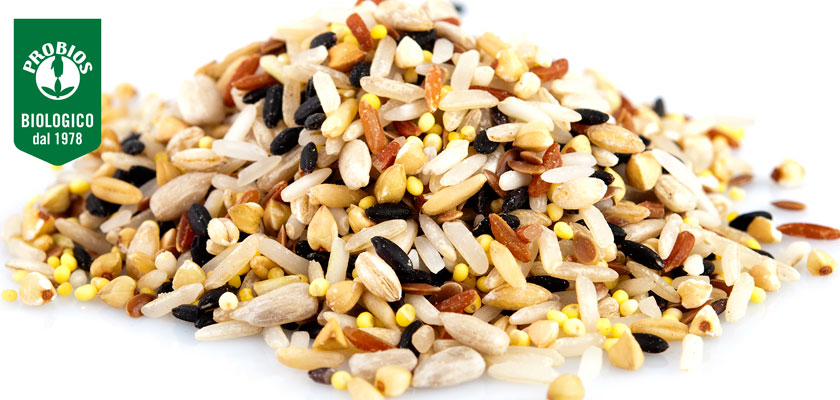 Since 1978 Probios has been offering organic foods and ranges dedicated to the gluten-free world. For this reason, we want to clarify on foods that don't contain gluten and those specifically formulated for coeliacs.
Meanwhile, let's explain what gluten is: it's a protein complex typical of some cereals, which contributes to give the elastic properties necessary for bread making, but that is also the cause of the celiac disease. In nature, we find foods that are gluten-free, but not for this reason dedicated exclusively to those who suffer from celiac disease: buckwheat, quinoa, teff or millet are just some of the pseudo-cereals that have come to the fore in recent years.
Instead, specifically formulated foods for celiac disease are certified gluten-free preparations that can be reimbursed by the National Health Service. Let's emphasize that celiac disease is a disease that is only counteracted by not consuming foods containing gluten. Probios proposes foods that, in addition to being certified gluten-free, are certified organic too.
For those who do not suffer from this disease, a varied and balanced diet, which prefers seasonality and organic origin with an alternation in the choice of cereals is the optimal solution. The right mix of nutritional substances resides in the food variety and therefore it's advisable that those who do not suffer from celiac disease also include traditional cereals such as spelt or wheat, even better if they come from ancient varieties.
Furthermore, we would also like to dispel the commonplace that celiac preparations are tasteless, not very tasty or that their diet is limiting. If there is a celiac person in the family, the gluten-free pasta can be appreciated by everyone: there are many varieties, such as our new multi-grain pasta and the buckwheat one, which perfectly maintain cooking, have excellent consistency and hold well all types of seasoning.
Even the breakfast lines are delicious and of excellent quality: nowadays food technology has made great strides and among the organic proposals we can find very tasty products, able to gratify and pamper even the little celiacs without making them regret the traditional diet.
Precisely because we love to take care of every food requirement, we dedicate ourselves with commitment and seriousness to the range of gluten-free products: we offer over 400 of them on the list, many of which are reimbursable by the National Health System.
Our new institutional campaign is just dedicated to gluten-free: find out more!