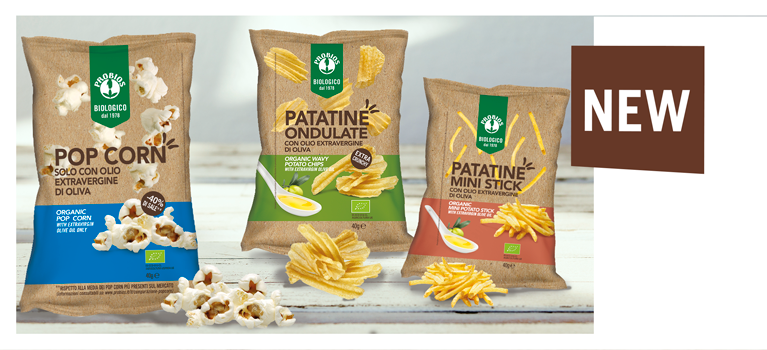 Extra crunchy chips and light popcorn: Probios' June news are a summer guilty pleasure!
This June, we're revolutionizing your home aperitifs thanks to three delicious news: wavy chips, popcorn and mini-stick chips.
Extra crunchy chips and light popcorn: Probios' June news
These three Probios' news are irresistible! All made with extra virgin olive oil, these extra crunchy wavy chips, mini-stick chips and the popcorn with 40% less salt are hands down the official summer guilty pleasure, ideal for your happy hours at home, or as a crunchy snack to carry around during your relaxing getaways. An organic, gluten free and plant based pleasure, naturally.
Bye Bye to junk food chips!
Chips and popcorn with a reduced rate of salt: Probios' news are always the answer to the request of the latest year of finding healthier alternatives on shelves. The accurate selection of ingredients, processing methods and cooking style are the key elements that granted the success of our savoury snack range. Some of them, like the Chips with Chickpeas and Crunchy Vegetable Chips with beet, carrot and parsnip are now, as a matter of fact, a real must have for high quality salty snacks made with the best raw material, especially thanks to the careful choice of the frying oil and the reduced rate of salt.
More taste, less salt
Not only organic, but also gluten free and with extra virgin olive oil. We have broadened the horizon of salty snacks with three ideal news for those who like to enjoy an aperitivo with healthier snacks and great taste. An organic, plant based guilty pleasure to munch on before dinner or while watching a movie.
Alcohol free, tasty drinks
Looking for the perfect match? Pair our new wavy chips and mini-stick chips to a homemade mocktail, the latest trend all over the world that recreates alcohol free dupes to the most famous drinks in the world, for a light, glamour and up-to-date happy hour!