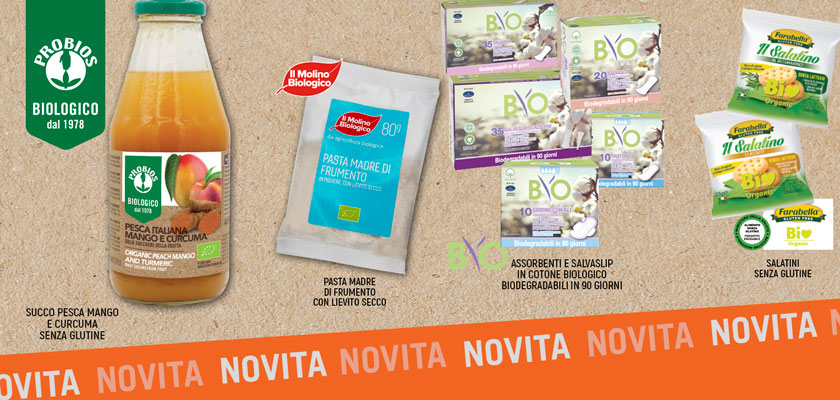 This year more than ever, May represents the month of rebirth and reopening, after more than a month and a half of surreal lockdown across the country.
Due to the Covid-19 emergency, we are spending a truly unprecedented amount of time in our homes, dedicating ourselves to affections, new or old hobbies and, very often, to cooking, rediscovering the beauty of some recipes slow times, especially those which involve leavening processes.
At Probios May also means novelty and we are very happy to introduce you to our brand new products! As always, we care about the everyone's nutrition, especially those who follow specific diet by choice or need.
First arrived among the Probios novelties, perfect for your home baking experiments, is the Whole Wheat Sourdough with dry yeast. This powdered sourdough yeast is obtained by fermenting the wheat flour for 50 days to which, after drying, a very small percentage of dry yeast is added. The advantage in leavening lies in the longer product life and in the particularly pleasant and intense aroma. Suitable for the production of bread, leavened cakes and pizza. As for the dosage, the 80g bag is enough for about 2kg of flour. Once opened, it's recommended to keep the product in a closed glass jar stored in the refrigerator, where it can be kept for up to 6 months.
With the arrival of the warm season, we also welcome the new Mango Peach and Turmeric Juice, with Italian peaches and only fruit sugars! Guaranteed gluten-free, it's available in a 500ml glass pack. Discover all the other fresh and thirst-quenching fruit drinks from the same range.
To satisfy the typical mid-morning or afternoon sudden hungry, the new Farabella Bio Pretzels arrive: Classic and with Rosemary. Guaranteed gluten-free (like the whole Farabella Bio line), they can be loanable from the National Health System. Made with sunflower oil and palmoil-free, they are also guaranteed milk- and egg-free and therefore 100% vegan!
Finally, for your intimate well-being, we present the Byo Intima line of compostable sanitary pads: sanitary pads completely biodegradable in 90 days, including the internal sachets disposable in the organic collection. Byo Intima sanitary pads are friends of our skin: made of certified organic cotton, they are hypoallergenic because they are bleached without the use of chlorine. 100% made in Italy. In addition to absolute comfort and protection, they are friends of the environment too! Available in various formats, to adapt gently to your every movement: Day pads with wings, Night pads with wings, Anatomical pads; Folded panty liners, Flat panty liners, Dualform panty liners.
Spring at Probios... smells of news!