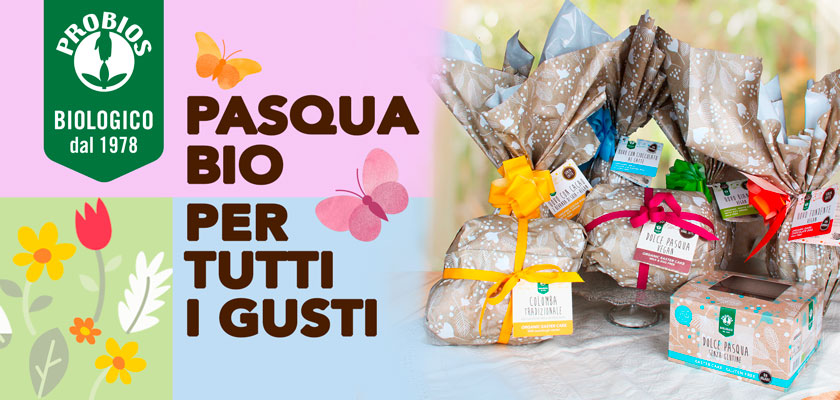 This year will undoubtedly be a peculiar Easter. Recent circumstances force us to spend a suspended and dilated time locked at home, in a truly surreal situation. However, this spare time can prove to be an unprecedented opportunity to slow down the frenetic rhythms of our lives, to rediscover the beauty of finding ourselves around a table to celebrate (or at least try...!) a day of serenity and sharing like Easter.
Our Easter selection is designed to meet all food needs: in fact you can find traditional, vegan and gluten-free products. In short, we want to guarantee an organic Easter for everyone!
Among the typical cakes, the classic Colomba cannot be missing, for an authentic taste in the name of tradition. The Probios traditional Easter cake is made according to the original recipe, with sourdough and delicious glaze with almonds. The sourdough derives from that used already in 1932 by the master bakers, jealously handed down with daily refreshments to ensure past flavors and aromas.
The Vegan wheat Easter cake allows you to savor all the sweetness of Easter while respecting the vegan choice. Made with sunflower oil and palmoil-free, guaranteed milk- and egg-free, the Probios Vegan wheat Easter cake is certified by Vegan Society and is produced with sourdough.
Finally, how can we not offer a gluten-free version to enjoy all the sweetness of Easter in total safety? Made with sunflower oil and palmoil-free, our Gluten-free Easter Cake is loanable by the National Health System.
But what Easter would be without chocolate eggs?! We offer you 4 types of organic chocolate eggs that contain the authentic flavor of cocoa and its unique aroma: Vegan Chocolate Egg with soy drink, White Vegan egg with soy drink, Vegan Dark Chocolate Egg, Traditional Milk Chocolate Egg. All our eggs are guaranteed gluten-free and contain a surprise!
We have also thought of small delicacies to give you a note of sweetness at any time of the day: try our delicious chocolate-based pralines with a creamy heart, guaranteed gluten-free. Available in two versions: Pralines with white chocolate and coconut flakes and Pralines with milk chocolate and chopped hazelnuts. And how to miss the irresistible Mix of filled Chocolate Eggs: 5 assorted flavors to discover (Walnut Nougat, Almond Nougat, Truffle Chocolate Mousse, Vanilla Truffle, Latte Macchiato Truffle) for your sweet daily pampering , guaranteed gluten-free.
Finally, perfect to lift a little your mood, discover the new line of single-dose pastry products, all gluten-free and loanable by the National Health System, for a sweet and fragrant snack: Bianchina, Gocciociock, Frollybon, Funghetto, Farcighiotto.
So let's toast with special organic bubbles, to hope that everything goes back to normal soon.
Happy Easter from all of us at Probios!
#everythingsgonnabealright