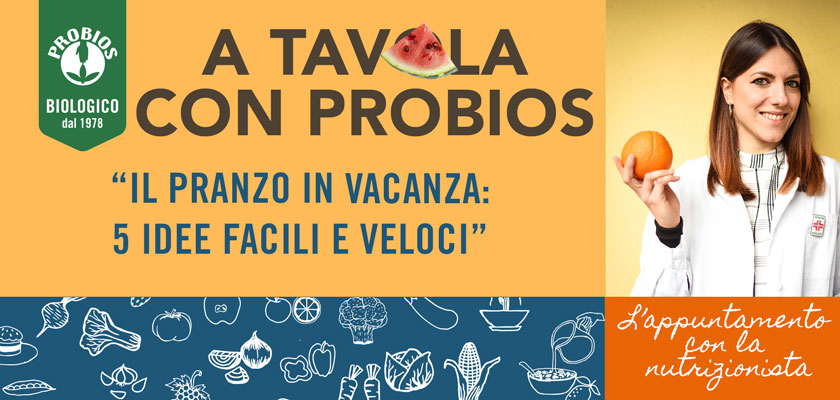 August has arrived and what could be nicer than organizing a day at the beach or in the mountains and having lunch under an umbrella or at a spring foot? Usually the most practical solution is to prepare very seasoned sandwiches, pizzas and rice salads. Without demonizing these foods, we can say that they are often very salty and stuffed preparations, which slow down digestion and stimulate even more the sense of thirst.
"But doctor, not even the rice salad... How can I make a healthy and light lunch?"

A wonderful rice salad, if expertly calibrated in proteins, fibers, carbohydrates and good fats, can give us energy and satisfaction all day long without weighing us down. However, valid and tasty alternative solutions are not lacking.

"So which foods are better to choose?"

The most suitable foods for a lunch on the beach or at the mountains must be simple, fresh, thirst-quenching and easily digestible. When exposed to the sun, our body needs hydration, A and E vitamins, minerals such as zinc and phosphorus, potassium and Omega-3 fatty acids.
So go ahead for mixed salads, paying attention to create a mix with a good balance among fiber, protein and carbohydrates. A portion of cucumbers, cherry tomatoes and carrots topped with an extra virgin olive oil teaspoon and a handful of almonds. Or we can mix rocket, lettuce, diced green apple, four crumbled walnuts and a spoonful of squeezed lemon. These salads can also be a light base where to add three tablespoons of boiled cereals such as spelt, brown rice or steamed quinoa or two tablespoons of legumes such as chickpeas, peas or lentils to make it more complete and nutritious.

"Doctor, I prefer sandwiches. Aren't they okay?"

We can make many healthy versions of them. For example, combining wholemeal bread with many colored grilled vegetables, omelette strips and radicchio.
Tasty and light lunch on holiday: 5 quick and easy ideas

Here are 5 quick and easy recipes that you can replicate - and that you can find on the AUGUST MEAL PREP too.
Classic brown rice salad: one of the classic dishes of summer cuisine: fresh and nutritious, it's the ideal single dish for summer dinners, picnics at the lake and days at the beach.
Vegetarian Pokè bowl: the Italian-Asian version of the pokè with tofu, sesame seeds and walnuts. Recommended: a pinch of gomasio.
Crudarola with fresh courgettes, mint and pine nuts: a delicious typically summer single dish, fresh and light, to prepare in advance and consume cold.
Quinoa bowl with apple, cheese and red fruits: it's an exceptional gluten-free single dish, ideal in summer when you want fresh, easily digestible and tasty dishes. Even children like it.
ONE-POT vegetarian paella: an excellent dish to be eaten even cold, based on brown red rice, legumes, mint and lemon that give freshness. Useful if you are in many people because it's cooked in one pan (precisely, ONE POT).
Happy holidays...and enjoy your meal!
Dott.ssa Benedetta Belli - Nutrizionista Probios