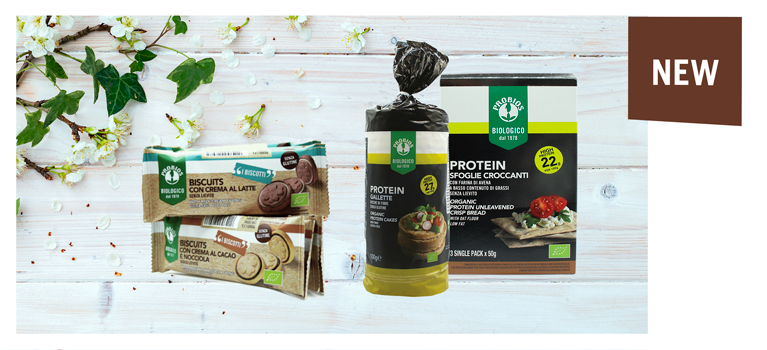 CAKES, CRUNCHY BREAD SHEETS, GLUTEN FREE PASTRY: PROBIOS MARCH NEWS HAVE ARRIVED!
Besides fitness, 2023 is also the year of wellness through the research of a well-being that involves both health, physical activity, rest, nutrition and also psychophysical harmony.
That's why Probios is welcoming the spring season with healthy and tasty products by launching the new Protein cakes, Protein bread sheets and some delicious gluten free biscuits!
The two new protein products are designed for fitness addicts and for those who live a dynamic lifestyle, they have a high protein and plant fibre content…perfect for any healthy lifestyle and overall wellness that starts from good nutrition!
The new Protein Cakes are made with organic lentil flour, they're gluten free, yeast free and high in fibre, whereas the Protein bread sheets are made with organic spelt, oat and flax seeds, with low fat content.
Two great products that can be consumed both as snack and appetizers, but also as bread substitutes. Besides fitness junkies, more and more people (source: Osservatiorio Immagino – Gs1 Italy) are getting closer to the world of high protein, rich in foods, especially the plant-based ones. Many consumers are nowadays looking for protein alternatives to the traditional ones, and becoming curious about new food choices and lifestyles that are connected with better health, better shape, and better environment.
Probios' gluten free assortment also grows with two new tasty offers: the new Biscuits, filled shortcrust pastries in two alternatives: with cocoa cream or milk cream, packed in multipack with 4 single servings inside therefore perfect for a snack on the go while you're enjoying your spring outings.