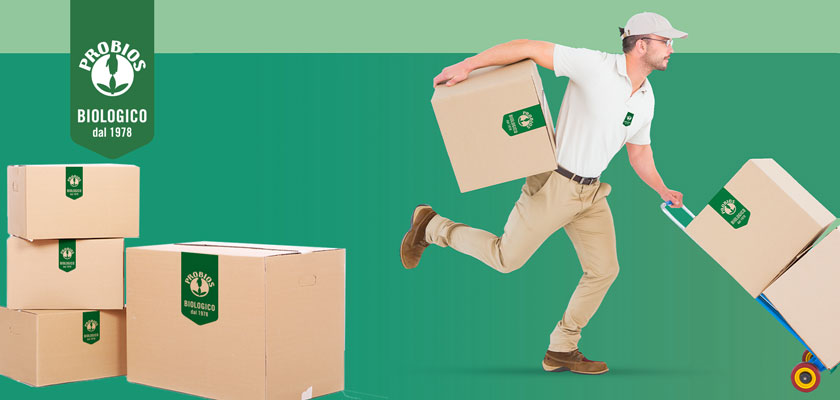 Summer always brings with it an air of sparkling novelty... and we at Probios are no exception! From today our new e-commerce is in fact online, to offer you an innovative shopping experience for your favorite organic products. For over 40 years, our team has been committed to offer you the best Italian organic products made through a rigorous research for quality raw materials, respecting man and the environment. This will never change: pure goodness at no compromise!
What news does our online shop reserve for you?!
The graphic design is completely renewed: a makeover to make us more captivating, but above all more responsive to the needs of consumers who evolve relentlessly, following market trends.
Each consumer represents a universe in his own right and follows the diet that best suits his needs, which is why our product catalog is divided into categories for each food requirement: gluten-free, milk-free, vegan, to name a few. In addition to these categories, you can quickly discover the Best Sellers product selection.
In addition to the monthly promotions available always updated on the homepage, you will find two important new features: the Promoshock and Savings Packs sections. The Promoshock offer you close-term products at a truly irresistible discounted price: fight food waste with us and contribute by saving! The Savings Packs instead introduce the case sale: stock up on your favorite products, with an ecological and economic spirit.
What remains the same, to continue ensuring maximum convenience and safety?
The chance to register your user account to store your data and buy quickly and conveniently. Even the 15% discount on your first order if you subscribe to our newsletter remains our personal welcome! Shipping remains free for orders over €59: you can pay by credit card or Paypal, with the possibility of requesting an invoice. When your order leaves our warehouse, you will receive an email with the tracking number, so you can check where your order is at any time.
The customer experience is increasingly central for those who buy online: for this reason we have made browsing our shop more user-friendly, intuitive from any device, especially from mobile, to be even closer to you in a few simple clicks. In the so-called Age of Customer, consumers are looking not only for products that meet their expectations, but for innovative and memorable shopping experiences too. Our mission is precisely this: to spread and promote the concept of organic, not only as a food choice through a simple online "showcase", but as a real ethical choice that represents an added value for the life of man and the planet. Consuming an organic product doesn't simply mean buying a brand, but being aware of its precious journey from the territory to the final consumer.
We can't look forward to see you online!