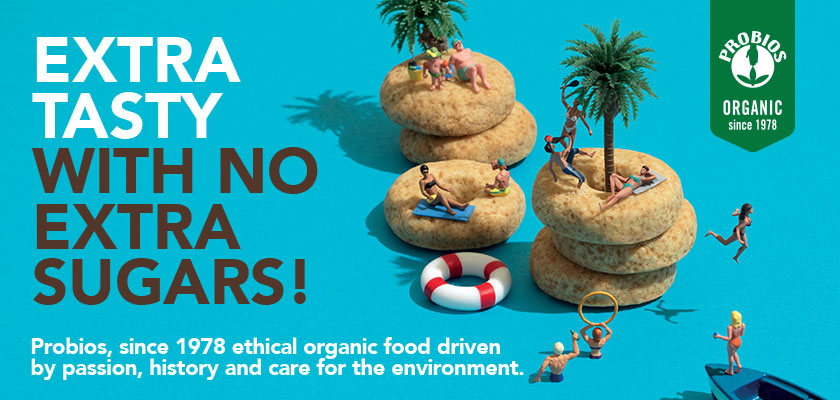 After more than a year of research by our R&D department, we are excited to present a unique line in the organic landscape, which takes advantage of the sweetening properties of erythritol. It is a natural substance extracted from corn by a fermentation process similar to that of fruit ripening. Erythritol has zero calories and the intake of foods that contain it induces a lower increase in blood glucose (zero glycemic index).
The Probios No Extra Sugars line is designed to meet the needs of consumers who follow a diet low in sugar, without ever betraying the promise to offer an organic that doesn't compromise with taste and quality.
The fragrant Cacao and Hazelnuts Shortbread are completely sugar-free, with sunflower oil, palmoil-free and vegan, as they are milk- and egg-free. Also the Lemon and Ginger Donuts, with fresh and strong taste, excellent for every moment of the day, are 100% sugar-free, palmoil-free and vegan, available in a 200g pack disposable in the collection paper, confirming our commitment to environmental sustainability. These two references are the first organic biscuits on the market to be completely sugar-free.
As for drinks, Peach White Tea and Lemon White Tea are the first organic tea sweetened with erythritol on the market. In addition to being sugar-free, they are made from real tea infusion and are guaranteed gluten-free. Finally, the Cocoa and Hazelnuts Cream, with no added sugar (only 1.6g/100g of naturally contained sugar), is obtained with the use of only Italian hazelnuts, is 100% vegan, with sunflower oil (without palm oil) and gluten-free, for all those who must follow a low-sugar diet but don't want to give up to a 100% organic cuddle.
The Italian consumers growing demand to reduce their sugar intake has been accepted for some time by food companies: this is demonstrated by the increase of more than 7% in the last year of many mass market categories that use the claim "sugar-free" and "no added sugar". We are talking about products where sweetness is an essential requirement, such as fruit-based drinks, snacks, jams, milk, flavored water, milk substitute vegetable drinks, etc. which are increasingly labelled with indications of the authorised sugar content (Reg. 1924/2006).
In the conventional products market the sweeteners used to reduce sugar are generally Maltitol, Aspartame, Xylitol and Stevia (only as table sweetener), which cannot however be used in organic. As regards the organic sector, the use of the erythritol sweetener has never been tried before. In this sector we find mainly products that take advantage of the natural sweetness of dried fruits, with the risk that, in the case of bakery products, the final product is rather "coriaceous".
That's why the Probios No Extra Sugars line is an absolute novelty: finally even in the world of organic, where until now there was no such things, products with no added sugar and completely sugar-free will be available, but with sweet and balanced taste, made with an entirely natural sweetener, 100% organic erythritol.
"Erythritol, unlike sugar, can help control of blood sugar, insulin levels and weight because it doesn't increase blood glucose levels and is not related to increases in cholesterol and triglyceride levels. In addition, it's absorbed by 90% of the intestine and excreted unchanged through the urine. A valid help from Nature to get used again to the authentic flavor of food" explains our Nutritionist Benedetta Belli.