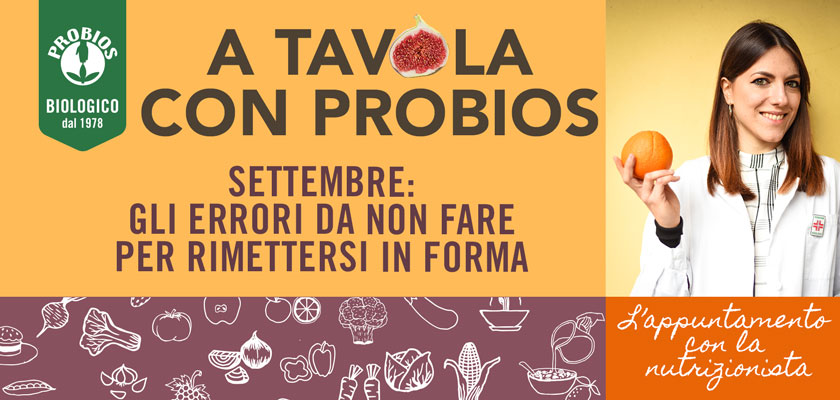 September has rolled around and you are getting ready to return to your daily routine, with a pleasant baggage of holiday relaxation. This is the month when good intentions flock: gym, healthy diet, some courses here and there to try new stimuli or to brush up on some historical passion.
Then it happens that while you unpack your suitcase and your head wanders in the memory of the water that refreshes your legs, you scroll your Instagram and winking contents appear with titles such as "Lose 5 kg in 5 days" or "Try this new miraculous slimming food". And just at that moment it seems that the posts are addressed to you, to you who relaxed during the holidays and took those 2-3 kg that you now wonder how to throw down.
When on vacation, the watchword is RELAX (always with balance, of course). So shake away the guilt: pick up again or think about the good habits you would like to have and follow these simple tips that will help you to restart on September with full energy!
Set small goals to create your new good habits. For example: "I will eat 5 portions of fruit and vegetables a day", or "I will drink 2 L of water a day".
Forget the pantry and use the fridge. We don't usually keep many packaged foods inside the fridge - certainly more in the pantry! - precisely because they are fresh and short-term products. In times of hunger this little attention will help you make better choices - low-fat Greek yogurt, fruit, raw vegetables with hummus, etc.).
Have nutritious, ready-to-eat foods on hand. Organization is the key to eat healthily! Having fresh fruits and vegetables, lean proteins, good fats and "smart" carbohydrates every week is great for staying on the right track. I like portioning vegetables in large quantities and cooking cereals like quinoa or brown rice on the weekend - so I have healthy food in the fridge ready for lunch on the go!
Always carry "airbag" foods with you: chopped fruit, dried fruit, dehydrated fruit or wholemeal biscuits are useful for moments of sudden hunger and to avoid making wrong choices.
Enjoy the foods you love carefully, yes, but with confidence! It's well known that balance is needed: the best choice to be fit and healthy is never deprivation - which often comes back like a boomerang -. If you feel that need for "sweet", then eat it and enjoy it, perhaps sharing with a friend. Not only the body, but also the head will thank!
Have a good September recharge!
Doc. Benedetta Belli - Probios Nutritionist