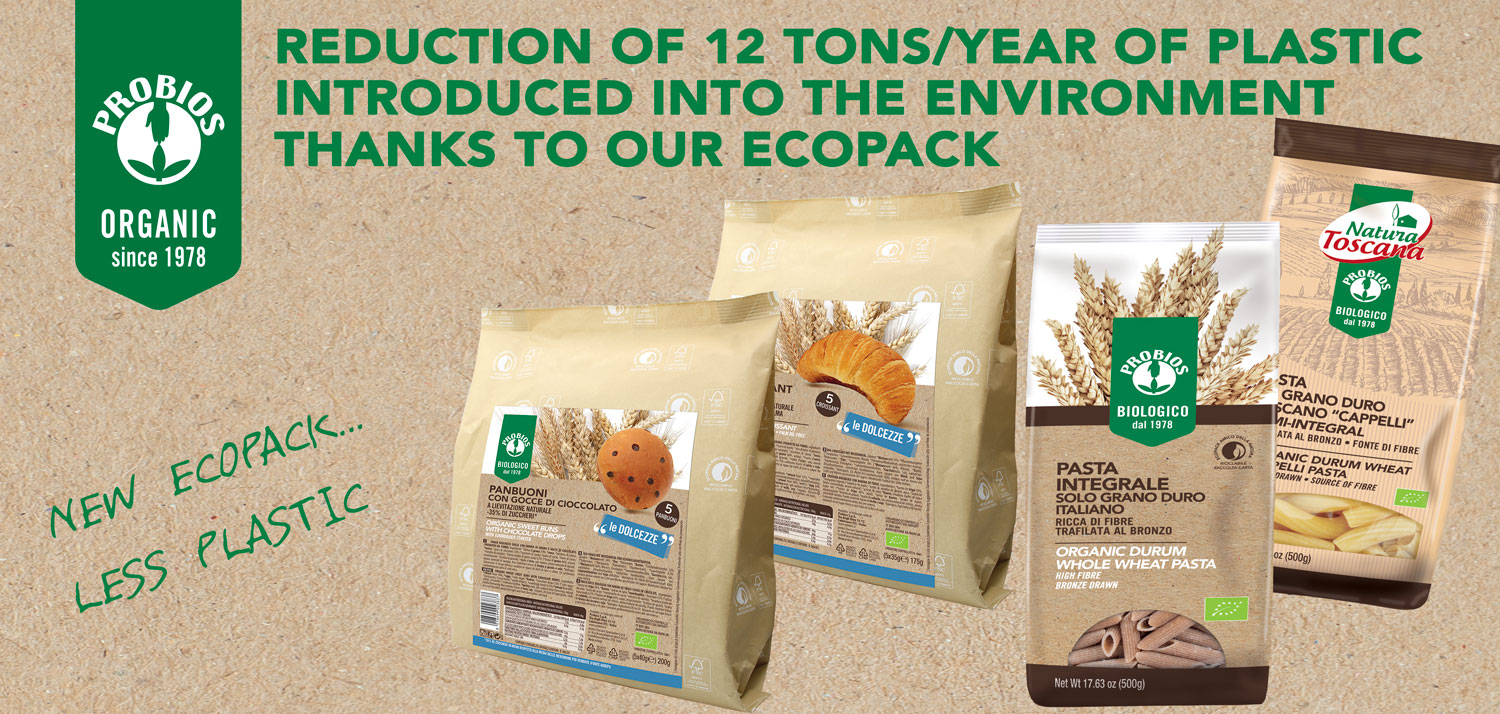 The theme of environmental sustainability has finally found its own place at the center of the contemporary public debate, strongly claiming its centrality and urgency. Trying to minimize the impact of human activities on the environment is no longer just a shrewdness of specific groups of people (activists, political parties, associations and lobbies), but a common goal to pursue globally and in an increasingly compact manner.
We at Probios have been working for over 40 years on the front line for the well-being of man and the environment: our offer of organic vegetarian products and specific dietary requirements is the reflection and demonstration. Against the background of a constantly changing food universe, we aim to seek a new, more real and sincere contact with the nature that surrounds us and what we propose is a biological without compromises declined in a modern key and always projected towards the future.
Precisely this attitude of ours led us to always be very attentive to the environment and to the protection of ecosystems, extremely topical issues that also concern products packaging. Although the package represents only a part of the environmental impact of a product, it can certainly be made greener thanks to the use of alternative materials to plastic.
On our packaging we have voluntarily specified for many years how to recycle it, indicating the codes of each individual material used, to facilitate proper separate collection. But this doesn't seem enough to us anymore and we have decided to raise our commitment to a cleaner and more eco-sustainable world. Transforming our products packaging into functional, appealing but above all environmentally friendly packages is a complex and ever-changing work.
For all these reasons, we are proud to announce that since September Probios products have an even greener soul, thanks to the gradual passage of our biscuit, croissant, snack and all our pasta packaging in packs disposable in the paper collection. Even our timeless gluten-free biscuits will change packs, passing to a bag-in-box pack consisting of an outer paper wrapper and an internal bag made of eco-compostable plastic that can be disposed of in the organic collection.
We estimate that, thanks to this epochal changeover, there is a reduction of 12 tons/year of plastic introduced into the environment deriving from our packaging.
The road to change has been taken and trusting in technological innovation and in the tenacity to build sustainable alternatives, we are committed to offer our consumers products that are increasingly "in favor of life".