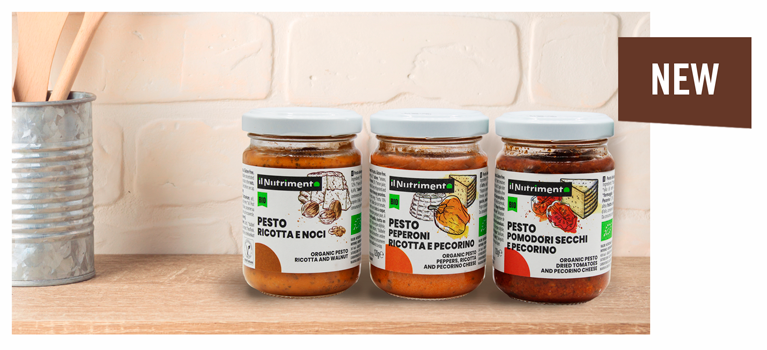 New pestos from Il Nutrimento: the Organic Gourmet revolution
Ricotta and walnuts, dried tomatoes and pecorino, or peppers, ricotta and pecorino: the new pestos from il Nutimento will get you on cloud nine and tempt your tastebuds.
What's the best word to describe our summer 2023? Definitely, TASTE! June is packed with new products here at Probios and, after our savoury snacks, we are excited to present you three new entries from Il Nutrimento: Pesto Ricotta and Walnuts, Pesto with Dried Tomatoes and Pecorino and Pesto with Peppers, Ricotta and Pecorino.
The unmistakable savoir-faire of Il Nutrimento, a unique Tuscan company specialized in the production of 100% organic, high quality, vegetarian products, is the key to realizing products like these, with organic and local raw materials that reminisce of the typical flavours of the Mediterranean tradition. Ready to use, these products are ideal to use as condiment or topping for pasta salads, but also bruschettas. Are you ready to hoard on them? These new products are definitely a pantry must-have for summer.
Pesto Ricotta and Walnuts
Made with extra virgin olive oil, it's a lightweight yet tasty condiment perfect for the season. The selected ingredients are natural, high quality and organic and give this pesto a unique and intense flavour.
Pesto Sundried Tomatoes and Pecorino
The recipe of this Pesto with Sundried Tomatoes and Pecorino offers the real taste of Italian tradition, in a healthy way. It's delicious, yet healthy thanks to the selected 100% natural, organic and made in Italy ingredients.
Pesto Peppers, Ricotta and Pecorino
Last but not least, the new Pesto with Peppers, Ricotta and Pecorino is able to conquer the pickiest palates. Let yourself be tempted by this product and its mix of ingredients that combine the sweetness of red pepper, and the balanced structure of ricotta and pecorino cheese.