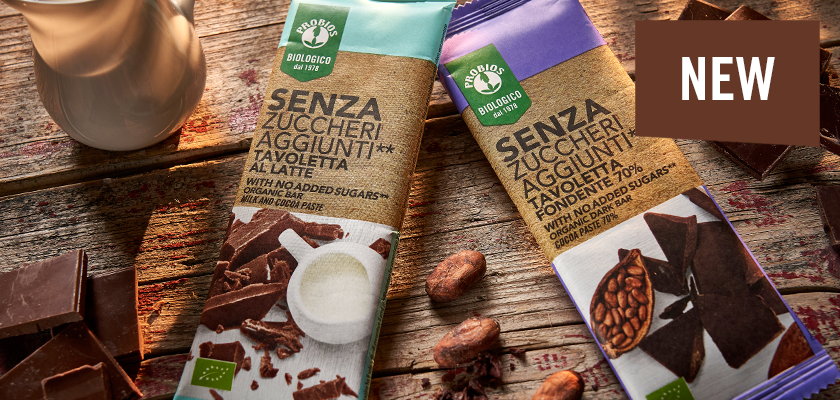 A square of free-from happiness: the new chocolate bar with no added sugars
Pleasure is seized in small bites! From November, try the new Probios chocolate bar with no added sugar.
For all the times you crave a little god's nectar to please your tastebuds, we designed the new Chocolate Bars with No Added Sugars: a tasty pleasure that comes in small bites. With the new launches, we improve our innovative assortment of products with no added sugar made with organic erythritol, an exclusive 100% natural sweetener extracted from corn that has so many benefits, most importantly being zero calories and with zero glycaemic index.
Designed for the pickiest palates, for sport addicts and for those who care about their well-being and shapes, these Chocolate Bars with No Added Sugar are the ideal snack if you crave something sweet or if you are looking for a pre-workout snack. Available in two versions, with milk and 70% dark chocolate, they are also a perfect ingredient for bakery.
The reduced intake of sugar is provided by erythritol: obtained through a fermentation process similar to the one of fruit, it has become a must have ingredient for those who are looking for healthy alternatives to everything. Differently from sugar, it helps maintain the glycaemic index and insulin, because it does not increase the blood glucose level. Moreover, its naturally sweet flavour perfectly highlights the authentic taste of the other ingredients and is appreciated both by those who cannot eat saccharose-based sweets, and by those who like to maintain the shape by reducing the sugar intake in their diet.