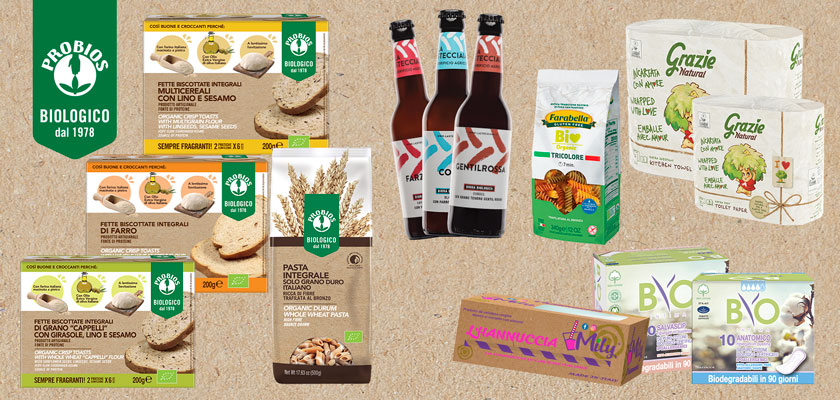 In spring, the awakening season, our range of products is enriched with many new references.
Let's start with a breakfast classic, which is naturally 100% organic: the new Artisanal Rusks. Available in three tasty versions: Wholemeal spelt, Wholemeal "Cappelli" with sunflower, flax and sesame and Wholemeal Multigrain with flax and sesame, they are perfect to be spread with creams and jams for breakfast, but also as fragrant savory snacks or in replacement of bread to accompany the meal. They are so good and crunchy because they are produced with manual and artisanal methods, in a traditional oven. Crunchy and golden, realized with exclusively Italian stone milled flours and Italian extra virgin olive oil, cold pressed. The leavening is slow and natural and lasts for 24 hours; the mother yeast* that has been used has been cared and fed for over thirty years. Source of fiber and protein and palmoil-free, they are packaged in 2 practical 6-slice box to always have a fragrant portion available.
Will come even Wholewheat Mezze Penne, a classic pasta shape very loved by Italians, that goes to enrich our wide range of available pasta references. A pasta rich in fiber which, due to its size and lines, is suitable for any type of dressing.
The Italian tradition in good pasta production is our pride, as well as the commitment to the environment and the protection of ecosystems: the new pasta is packaged in innovative ecopack disposable in the paper collection, a gradual process that will lead us to eliminate the plastic pack for all pasta references.
The three new formats of Farabella pasta, Tricolor Fusilli, Potato Chicche with rice and Mezze Penne rigate, also enrich our references of guaranteed gluten-free pasta, which can be prescribed by the National Health System.
Even drinking becomes greener! The La Stecciaia craft beer line, the first agricultural brewery with organic certification in Tuscany, arrives on the shelves with 5 unfiltered and non-pasteurized variants: Kolonia, Kolonia gluten-free, Cocò, Farzotta, Gentilrossa.
We at Probios also welcome new no food references: the Grazie Natural eco-friendly paper line is enriched with two references packaged in paper, the 2-rolls kitchen towels and 4 maxi rolls Toilet Paper.
Speaking about sustainability, Mily has arrived too: the paper straw, for truly eco-friendly parties! Made from 100% virgin cellulose not bleached with chlorine, it's perfectly disposable in organic collection. Individually wrapped and 8 mm in diameter, it's available in 30 and 100 pieces packs.
Body care can also be completely green: Byo Intima is a line of sanitary pads in pure organic cotton, disposable in the organic collection. Byo Intima sanitary pads, that do not undergo any chemical bleachment, ensures a safe and natural protection, while respecting the environment.
Thanks to the attention that we devote to ingredients and raw materials choice, our products have high quality standards and great appreciation among consumers, factors that encourage us to expand and constantly renew our offer: 100% organic and vegetarian food and references for home and ecologic cosmetics, made in full respect of man and the environment.
*The sourdough is made up of a mixture of water and flour, left in contact with the air so that it's enriched with the yeasts present in the environment. Natural leavening is much slower and more complex than that one with beer yeast, but it makes the products more pleasant and improves their conservation.