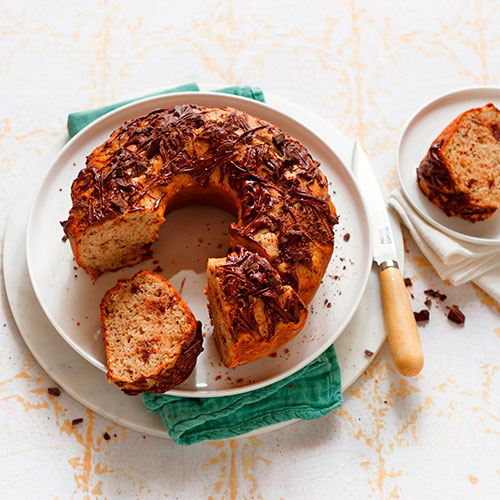 INGREDIENTS
250 g spelt flour, plus that for the mold

50 g rice flour

50 g fruit muesli

120 g 70% dark chocolate

120 g bright cane sugar

50 g sunflower seeds oil, plus that for the mold

250 ml banana soy yogurt

1 untreated lemon

2 ripe bananas

1 teaspoon of baking powder for vegan cakes

1/2 teaspoon of baking soda

hazelnuts spread

salt
INSTRUCTIONS
Grate the lemon zest, then squeeze the fruit to get the juice. Chop the chocolate with a knife. Sift the flours with the baking powder and baking soda in a bowl, then add 100g of chopped chocolate, the fruit muesli, the grated lemon zest, a pinch of salt and mix.

Pour the oil into a tall narrow glass, add the yogurt, the chopped banana pulp, the sugar and the lemon juice, then blend at maximum speed with an immersion blender. Pour it all over the flour mix and stir quickly with a spatula.

Distribute the mixture obtained in an oiled and floured donut mold measuring 22-24 cm in diameter and bake in a preheated oven at 180°C for about 35-40 minutes.

Remove from the oven and leave to cool on a cake rack. Spread the hazelnut cream on the surface with a teaspoon, forming irregular strips, sprinkle with the remaining chopped chocolate and serve.
© La Mia Cucina Vegetariana