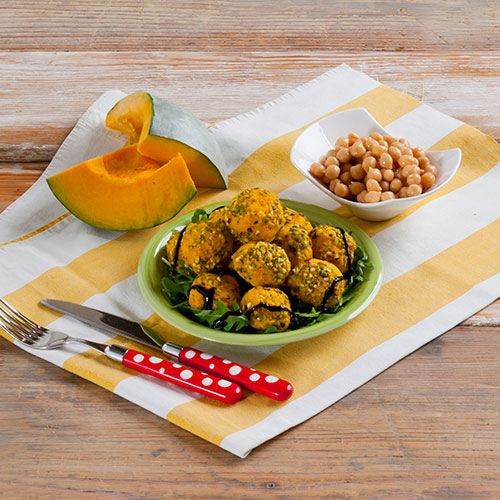 Type of recipe:
appetizers
INGREDIENTS
400 g already cleaned pumpkin pulp

250 g boiled chickpeas

50 g fine chopped pistachios

30 g chickpeas flour

2 garlic gloves

10 sage leaves

2 bay leaves

glaze of balsamic vinegar

extra virgin olive oil

salt and pepper
INSTRUCTIONS
Cut the pumpkin pulp into cubes and weigh 340g. Heat a drizzle of oil in a pan and fry the sage leaves for 1 minute, then add the pumpkin, bay leaf, salt and pepper. Stir well and cook over medium heat with the lid on, until the pumpkin is soft, adding a little boiling water if necessary.

Remove the bay and sage leaves, leaving 2-3 of the latter and blend the pumpkin in the food processor until the mixture is not completely homogeneous.

Puree the drained chickpeas in a mixer with salt, pepper and a drizzle of oil, until the mixture is not entirely smooth. Combine the blended pumpkin and chickpeas in a bowl, season with salt and pepper if necessary and mix in the chickpea flour and minced garlic. Mix well, until you get a homogeneous mixture.

Shape into meatballs the size of a walnut and pass them in the chopped pistachios, placing them gradually on the baking sheet lined with baking paper. Sprinkle them with a drizzle of oil and bake them in a preheated oven at 200°C for about 20 minutes, until golden.

Serve them with mixed salads and a drizzle of balsamic vinegar glaze.
© La Mia Cucina Vegetariana