---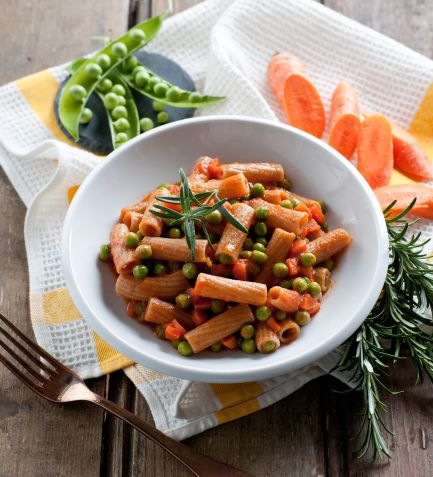 Type of recipe:
first courses
INSTRUCTIONS
Shell the peas, wash and boil in salted boiling water for 5 minutes, then drain.

Pour the soy flakes in a pan with boiling salted water and boiled for 15 minutes, then drain.

Peel and wash the carrots and cut into cubes.

Put in a saucepan 2 tablespoons of olive oil, peeled garlic, carrots, bay leaf and rosemary: cook for a few minutes, add the tomato puree, soy flakes, salt, pepper and cook for 30 minutes.

Towards the end of cooking add the peas and stir, cover and keep warm.

Cook the rigatoni in abundant salted water and drain when al dente, following the cooking times indicated on the package, drain and add a few minutes in the casserole of the pea sauce before serving.