---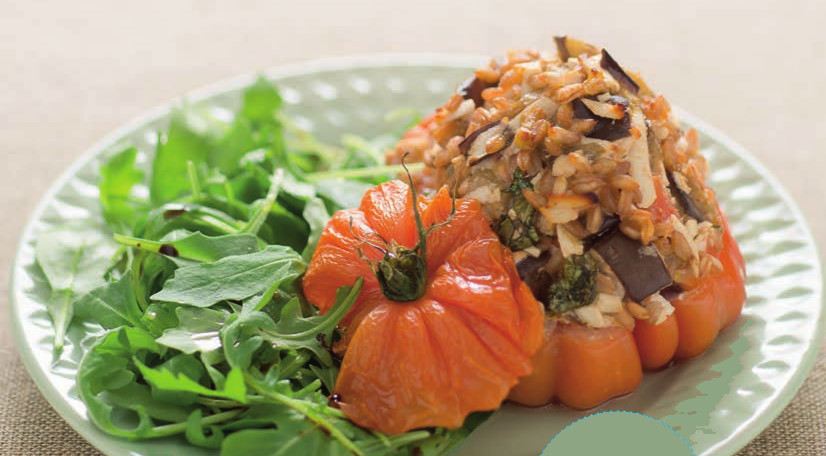 Type of recipe:
first courses
INGREDIENTS
80 g spelt

4 beefsteak tomatoes

400 g aubergines

80 g salted Ricotta cheese

1 bunch of basil

rocket salad to garnish

pepper
INSTRUCTIONS
Rinse and place the spelt in a saucepan with 250 ml of water. Boil it at low heat for 25-30 minutes, until it absorbs all the water and add salt only after cooking.

Cut the top of the tomatoes and gently empty the inside with a spoon. Chop the pulp and keep it aside. Lightly salt the inside of the emptied tomatoes and let them drain by placing them upside down.

Reduce the aubergines in small cubes and stir-fry them for about ten minutes with a tablespoon of oil in a non-stick pan, add salt and pepper. When the cubes become soft, add the tomato pulp and let it dry for a few minutes on a low flame.

Grate the salted ricotta with a large grater and mix it in a bowl with the spelt, the aubergines with tomato sauce and some chopped basil leaves.

Gently dry the tomatoes, then fill them with the mixture, compacting it well and forming a small dome at the top. If you want, you can cover them with their caps. Place them in a baking pan covered with baking paper and bake at 180°C for 15 minutes.

Season the rocket with 2 tablespoons of oil, a tablespoon of balsamic vinegar, salt and pepper. All you have to do is serve the warm tomatoes surrounded with salad.